Last year was a rough year filled with changes, stress, and transitions (details in "2013 - a year of transitions" blog post). The result was going back to undesirable eating patterns, losing motivation to WO, and putting on over 30#. That put my weight over what it was when I first started SP. However, 2013 is history, just a memory of the past. This is the year to learn from that experience, set all the failure aside, fight to press on and overcome.
Overcoming has become my theme for 2014. I have been deeply impacted and motivated by the video in my previous blog post of Mandisa's "Overcomer". I have a sense of being refreshed and renewed after all of the turmoil of last year. I am pumped and ready to press on into this year, filled with excitement to see what God has in store for me.
These are the targets I had setup for January: lose 4#, put in 40 miles to build up running endurance again, Bodypump for ST 3X week, total 1000 mins. WO, increase daily veggie intake.
Summary of achievements for January: lost 2.2#, put in 43.25 miles, no Bodypump or ST, did increase WO's and achieved 1035 mins, averaged daily 3 servings of veggies, 1.8 servings of fruit and 7 glasses of water.
Target focuses for February: lose 4#, put in 45 miles, total 1350 mins. WO, start doing Bodypump 2X week, follow squat, biceps, and plank challenges for the month, increase daily averages to 4 servings of veggies, 2 servings of fruit and 9 glasses of water.
My plan: short runs on Mon. and Wed., longer runs on Fri. or Sat.; Bodypump on Tues. and Fri. or Sat.; aerobics or Bodypump on Thurs. I have my February calendar printed and ready to go with the squat, biceps and plank challenges and tracking for daily veggies, fruit, and water.
A thought process that has been a big help to me is the establishing of targets rather than goals. When I set goals I found that if I blew it one day or one meal I felt that I had failed and was not able to reach that specific goal. It was easy to just quit altogether on reaching the goal. However, by focusing in on a target I have a different attitude. If things happen (as life adjustments are a real part of everyday living) that interrupt my plan, I may not hit the exact bulls eye, but I am able to continue to work on seeing how close I can get to the center of the target.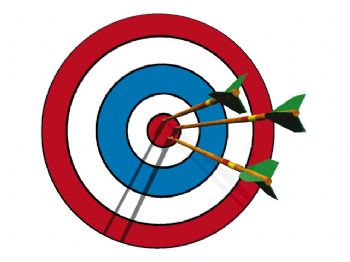 This thinking and the motivation from the "Overcomer" video have been key factors in helping me move forward.
So I am ready and set to jump into February with no goals, no resolutions from the new year, but with several targets excited about aiming for and seeing how close I will get to each of them.
"Little children, you are from God and have overcome them, for He Who is in you is greater than he who is in the world." I John 4:4
"For everyone who has been born of God overcomes the world, And this is the victory that has overcome the world - our faith." I John 5:4
Ever pressing on to be consistently persistent/persistently consistent

*´¨)
¸.•´¸.•*´¨) ¸.•*¨)
(¸.* *Barb.•*