Atkins Quick-Start Kit
Friday, January 31, 2014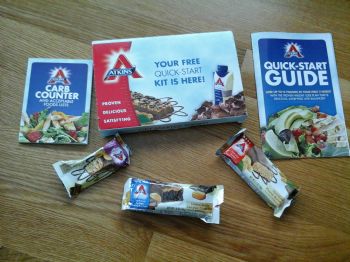 This came in the mail today.

The quick-start guide has sample menus, a little helpful tips for each phase of the atkins diet, and some yummy recipes. I liked the looks of the Ginger Pork Tenderloin. I would just have to skip the candied sweet potatoes that was with it.
I also got a couple coupons for Atkins frozen meal & a shake multipack. There were 3 Atkins bars in the kit. So far, I only tried the "Caramel Double Chocolate Crunch Bar". It really was nothing special, and not worth wasting 22 grams of carbs on. My advice is don't waste money on those.
Probably my favorite part of this kit was the little Carb counter booklet. It even lists all the acceptable foods in phase 1,2 & 3.