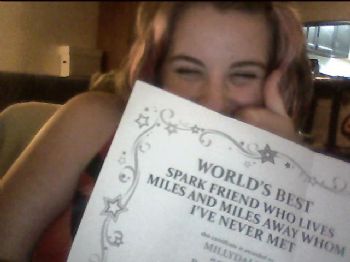 Got this in the mail today with a gift and a letter from SallyG. I'm still just blown away by the idea that a SparkFriend would go to such lengths for me. I'm actually pretty much at a loss for words... but I can say that Sally and I have gone through almost 2 years of a lot of ups and downs, and such a wonderful gesture just reminds me that my Spark friends really know what I'm going through because they are going through the same things. Just today I read Sally's blog about having medical setbacks and trying to stay on track with weight loss when other things in your life are changing, and I feel like I connect so much to that.
So this motivation came at a time when I really need it. Today has been hard, because ever since my walk with Jack where I had the mysterious allergic reaction, I have been too nervous to go for walks in the evenings. I have been finding it hard to find a way to fit exercise into my new work schedule for the semester, and I've all but lost it with my emotional eating. I am a little proud to say that I am now NOTICING when I binge, but I haven't had binges like this since I started SparkPeople. I have been feeling so down on myself and embarrassed that I let myself get to this place, but sometimes I'll be eating a bunch of chips or candy bars (there's a drawer of mini chocolates at my work) and think, I should stop. I can't afford these calories, I am only doing this because I am stressed out. But then there's that little voice that says, but it makes me so happy, it tastes so good, what's it matter really?
It's just so serendipitous then, that at a moment when I spent 2 dollars in car change on some chicken nuggets from Wendy's and drive the long way home so I don't have to feel guilty when I get home and then guys see me with fast food when I've been telling everyone how much I want to lose weight... then I throw the trash away and grab the mail... and in the mail is a handwritten letter from my friend telling me that she is thinking about me and hoping my stress is less and a certificate for being a good SparkFriend... it's just like she knew what I needed most at the moment to start making good choices again. When I woke up this morning, my resolve to lose weight just felt so weak and far away. But I know I can do this, and my friends know I can do this too. I want to be happy and be free of this addiction that just makes my world feel so bloated and weighted down. I need to rededicate myself to this... just knowing that a lady who lost twice as much as I have believes that I can and has my back and is sending good thoughts my way, just having one Sparkfriend like that is worth 100 others.
Action plan for the week:
-No more candy. (I thought I could handle having 1 with my coffee. I cannot.)
-Bring healthy snacks to work.
-Stick to working out 3 days a week for now. Don't forget strength.
-Plan out meals for each day.
-Measure everything.
-No baking sweets, and no caving to roomie who wants me to bake him sweets.
**When I sense a binge coming, do some crafty activities (knit, sew, etc) for 5 minutes, or drink a flavored water