I thought I'd try to take pictures of everything I eat, a la CAKEMAKERMOM.
I got up around 6:40am. I prepped my green smoothie the night before, and here it is in its pre-blended glory.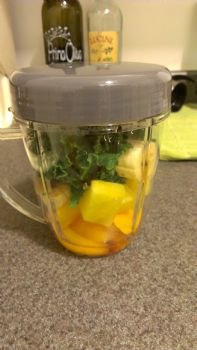 Here it is, all blended. The strawberries really ruin the vibrancy of the greens and make it a less-appealing looking drink. I also had a brewed chai -- YUM!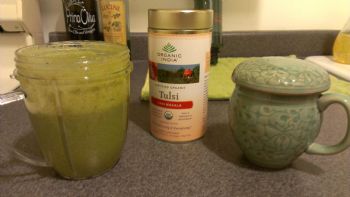 Once I got to work, I made Gluten Freeda banana-flavored instant oatmeal and a cup of tea. I keep cinnamon at work so my oatmeal, when I have it, is tastier.
Then I was fed and happy...
...And before I knew it, it was lunchtime. Usually I make something on Sunday for the entire week's worth of lunches, but not this week. Yesterday and today I had chicken and wild rice soup from Pacific. I had GF pita chips and hummus, along with cherry tomatoes. Not a bad lunch!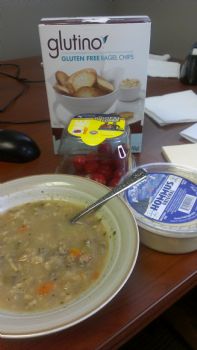 I needed something sweet to finish my meal. My co-worker gave me these jelly candies because they said gluten free on the package. It was a kind gesture and I took them even though I didn't really want them. I eat one after lunch every day. I almost forgot to take the picture.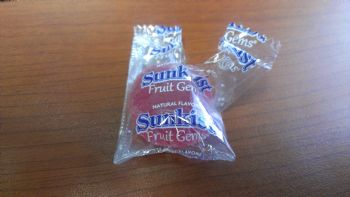 And that's where the pictures stop.

Around 3pm I had a cup of hot chocolate (Whole Foods brand) and forgot the picture.

When I got home I had a Sargento string cheese.

For dinner, my lovely BF made beef tacos. He's REALLY anti- food pictures and I decided not to provoke him (LOL) with a picture of my plate. (I'm only joking! He would roll his eyes, but wouldn't really care. I still chose not to do it.) I had 3 beef tacos on a blue corn hard shell with cheese, green salsa, and sour cream. We had refried beans on the side and I finished up what was left of an avocado. I should have taken the picture... Dinner was good tonight!
I don't think pictures of my food (or descriptions of what I had) will be a regular occurrence... I'm not very good at it!