Tuesday, January 28, 2014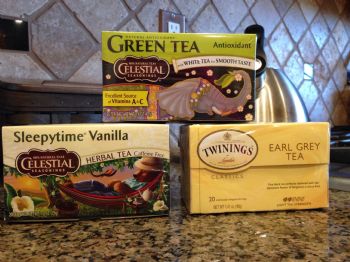 Tea is a big helper in my weight loss. I am drinking a glass of water with meals and then a cup of tea after meals. This helps my stomach register satisfaction. I also love the soothing feeling of a hot drink after a meal. The sleepy time decaf tea is fantastic for the evenings.
Now I keep a bowl of tea bags and my cup ready right by the stove!
I was watching my nephew the other day and my sister-in-law had a Breville electric tea kettle. It heated the water amazingly fast without the annoying whistle. Look how much water you can consume! Also, I hate when my metal tea kettle chips at the bottom. This kettle is all glass. I got one for our beach cottage. I love it!
Do you have a favorite tea?