Monday, January 27, 2014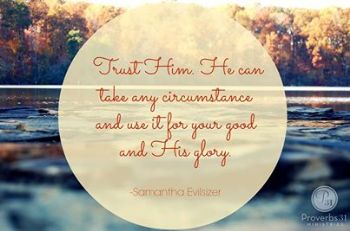 I've made it through my busy Monday and need a good rest for a busy Tuesday. This week is bringing a lot of extra activities and I did say "no" to a field trip with the co-op for Friday to have one day completely home.
Co-op went very well today and it was fun having the Government class do a campaign/election throughout the day. They gave speeches at opening, hung posters and campaigned with all the preschoolers through adults. Voting opened at 12:30 and closed at 1:10. The girl that won promised everyone Cheetos if elected, made her posters out of Cheetos and handed out baggie of them all morning. LOL We will announce the winner to everyone next week.
Here's a photo of Isaac voting.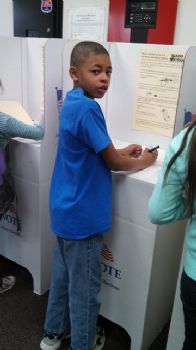 And here Maegann is showing her student ID so she could vote.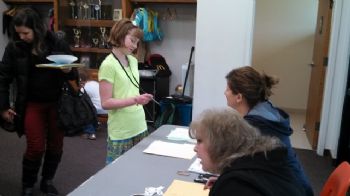 It was great that the teachers got actual voting booths, student ballots, a ballot box and "I voted" stickers. A good teaching opportunity with children that have never experienced this stuff before!
Once home I swept floors, got co-op emails finished and started on supper. Jared came to work with Isaac again (worked out great even after a full day) and then realtor #2 came at 4:30. Tim and I both like them much better as they see the place more like we do and the price was very close to realtor #1. So our plan is to invest a little money in getting a decent, though not expensive, carpet put in the bedrooms, hall and living room (it's just subfloor right now), new vinyl in the kitchen and utility rooms and pay someone to come and clean all the windows inside and out. We also need to finish up the countertop sides (get the old stuff off that is broken in places), clean up the oak there and varnish it and then sand and seal the worn spots on the hardwood and do touchup painting. They said they wouldn't bother repainting the inside as it does not look that bad to them at all. I also like that they said not to mess with the wallpaper border in the kitchen and master bath. Figure we would be ready to list with them in about a months time.
Tomorrow morning the day will begin at the dentist. Cleanings for the kids and myself. I have my weekly appointment with the Nutritionist at 1:15 and then Jared is coming again at 2:30. Maegann and I also need to bake 2 pies that we are taking for Legislature Day at the Boise Capital (have to deliver by 9 a.m.). Each year homeschool families have displays and things inside the capital and many bake pies that they deliver all over the capital and/or have available. This is our first time helping out. Afterwards we are going to the Aquarium for something different to do as we'll be in Boise.