Goal: I will still lose my pound while on vacation.
My husband and I are at our little cottage by the sea this week. I stocked up on healthy groceries. I've been eating steel cut oatmeal with berries for breakfast.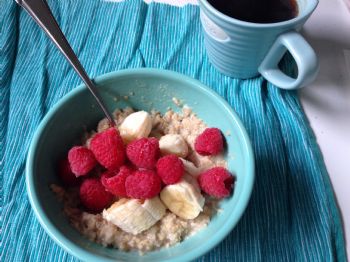 I am really proud of myself for finding a place in the nearby town that offers zumba classes. I printed out their zumba schedule and put it in my phone calendar before leaving. The first class was free and I loved it. The next day I bought a punch card of several classes for when we're coming to our cottage. I had to pack an extra duffle bag just for my zumba clothes! I get really sweaty so I need exercise clothes for everyday.
It was a beautiful, sunny day yesterday so we went out to one of our favorite spots for lunch to enjoy the amazing view. I was good and had water and tea, but no white wine. They serve Asian food so I got healthy edamame, miso soup and 8 California Rolls for a 450 calorie restaurant lunch!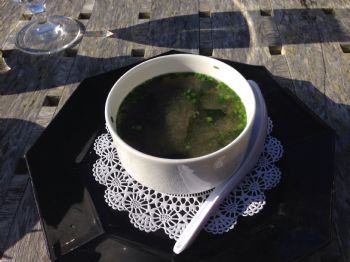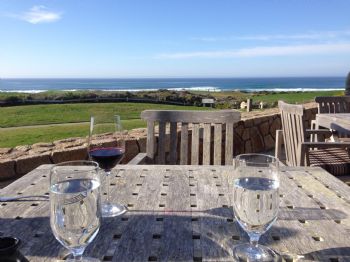 Then we walked our dogs down the boardwalk beach path to a quiet beach where the dogs got to run and play off leash. They had so much fun and we had so much fun watching them! I'm so glad the vet said Mocha could have her cone off and play on the beach!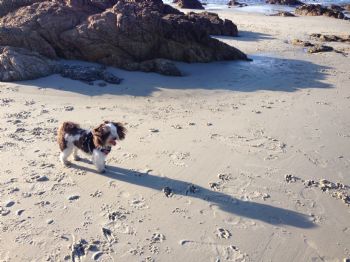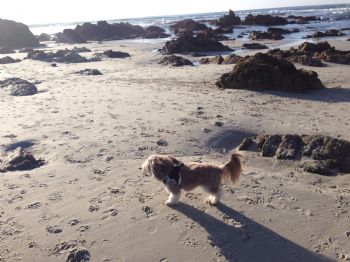 We had a peanut butter and banana protein shake for lunch. Tonight I'm making pork chops, sautéed apples and onions, plus some new potatoes for my husband.
In the past, I always drank wine for dinner and sometimes also for lunch while here. Our really bad habit was going by our favorite chocolate shop and eating their sweets every night for dessert. I use to golf with my husband, but now that have degenerated discs in my neck, golf hurts my neck. I used to run along the ocean, now I walk, but I'd like to build back up to running. So far Zumba is not hurting my neck! It's my favorite trail. I will post more!
Happy, healthy and getting better habits everyday!