Monday, January 27, 2014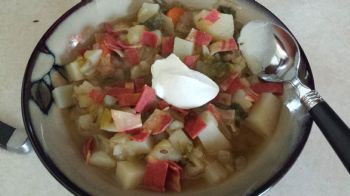 I decided to give the crockpot a second chance! Yesterday I woke up and thought it was the perfect day to use the slow cooker so I went to the store and picked up a few things for my potato and leek soup. Five hours later I got this masterpiece. It's delicious! It's been several years since I've put sour cream in my soup and this was nostalgia with borscht. I also made homemade "bacon" bits by frying veggie bacon to crispy and chopping it up. I've never actually eaten a leek before. I was like... dafuq is this.. how to do I cook it.. which parts are edible.. uh.. I can't even tell leek is in this because it molded with the cabbage over those hours.
This weekend was good and relaxing besides the weigh in appointment. I bought a new game on the snow day Friday and pretty much did that all weekend. I've developed a callus on my right wrist from using the mouse so much. PC gaming... sigh. I suffer because the game quality is worth it. There's a 90% chance I won't have work tomorrow or Wednesday because they are predicting 3 inches of snow for Louisiana! I am so excited to make a snowman, you have no idea. Last time I saw snow was 2008.
Goals for this week:

No drinking

Eating homemade whole food meals

Writing down everything I eat and times

Exercise at least 30 minutes

Make a snowman?