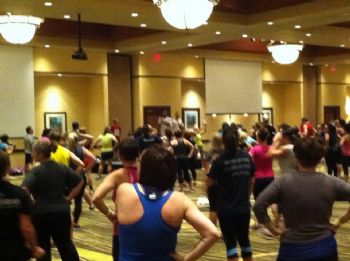 I posted on my other blog about the event I attended with Shaun T. The take away was a powerful one. I hope you take something from it yourself.
http://nickjaroshfitness.com
/shaun-t-lincoln-nebraska-
event-review-2014-my-best-
year-ever/
This weekend I attended an event in Lincoln, Nebraska. It was titled 2014 My Best Year Ever. For the record I have been to about a million of these different events. This was a workout with Shaun T and attached to it was training on making your year, the best ever. It was Beachbody centered but not heavily Beachbody related. Anyone could apply the ideas and concepts to your life.
Every year I attend at least two more of these events. I am also inspired to come back and do my best. Similes and rainbows, and itís going to be awesome. Then you know what? After about a week, (well really a few days), that excitement wears off and I found myself right back to the same place before. Not really better than before.I told my wife the other day that this year just seems different.
Here is my post about this weekend, my take away, and something I hope you take with you into your day, week, month, or year.
The Difference
I have been setting goals since I was in pee wee football. I have naturally been a goal setter so every year I set goals and work really hard to accomplish them. Often times I do and often times I donít hit them. However, I have those goals because I was taught they are important. Many times you go to a improvement or self-development event and they ask you to set your goals down.
Me With Jeff Hill SR VP at Beachbody
Me With Jeff Hill SR VP at Beachbody
I think this excites people and scares them too. I know Iíll say, well maybe Iíll him them maybe I wonít but they are there! Create a plan the experts say, work harder than everyone else the experts sayÖ Here is what they leave out and the theme behind this yearís event in Nebraska, and for 2014Ö. PAIN
Itís a powerful word, PAIN. Something that I think we often want to avoid but we all go through at some time or another. We donít like to talk about pain, and we surely try to avoid it. However, in order to achieve anything of significance we must be willing to embrace it.
PAIN
You know what pain is, physically, emotionally, spiritually, and so on. I think many of us think pain is unique to us. We see so many successful happy people, coaches, mentors, etc enjoying the fruits of hard work but we never see them in pain. We never see them struggle. Itís not to say we should post or share about everything that is bad in our life but the reality is everyone is going through some sort of struggle.
I realized that NO one has it all together. Student Loan debt, living in a modest town home development, trying to inch through life and new marriage. Thatís my struggle and pain. Body image yep everyone has them! People with money have them, people with success still have them.
You may just see the easy, or glamorous side but along the way they are either in a crisis, just getting out of one, or about to get into one.
Take Away Ė Look to the Future but Stay in the Moment
If anything I took away from this weekend is that everyone deals with pain in different ways. Some overcome it, and others run from it. It is those that seek light through it that find the bigger picture. I am consistently looking for bigger things, more success, more, more, more. Projecting into the future but what I have come to realize is that taking a moment to enjoy the journey has more value and joy than worry about the future.
My Words to You
This might never resonate with you because you feel you have it all. Good for you, but I would venture to say you are lying to yourself and some where you have pain. I invite you to face it and turn into fuel and memories. Learn from it and move forward. Embrace the day and enjoy life for what currently is, because if you are breathing you still have a fighting chance.
Your Coach,
Nick Jarosh