Wow, I'm really getting it in the end with this staying up really late on Saturday nights. Midnight is never a good bedtime, especially when I'm forced to be a morning person during the week since I have kids.
That means I got up really late on Sunday. It was after 10 by the time I rolled out of bed. I'm glad my family allows me to do that, but I need to get out of the weekend stay up late habit, it throws off the rest of the week.
I still had some breakfast, even though I was out of my yogurt. I had some puffed rice, strawberries and milk. I seem to always pour too much milk and I never drink it out of the bottom of my bowl.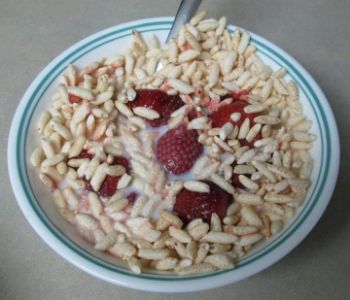 The husband said "let's all go out since I have to cash my check", so all three of us were out instead of just me. In order to get my son to come with we had to bribe him with eating lunch out, he's still too young to stay home by himself for too long. I ordered a cheeseburger, my husband had a sandwich off the dollar menu and got the small fries and drink for a buck, so I shared some of his fries. My son ate more than either of us with a 6 piece nuggets and it came with a small fries instead of the half fries the happy meals usually get. He also had an icee.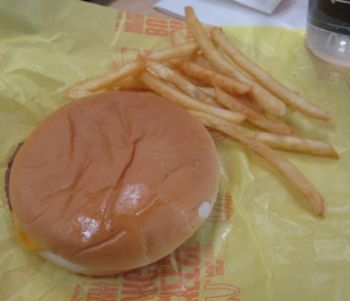 By the time we got home (and I had to pick up low-fat yogurt instead of the full fat stuff, they blame the warehouse for the shelf always being out!) I needed a little something, so I had a handful of spiced almonds.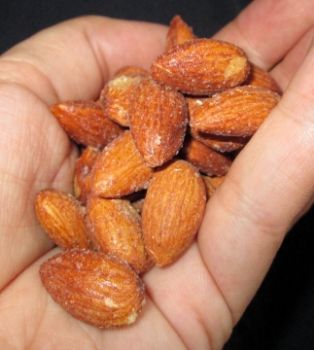 Dinner was a nice salad, and no I don't like dressing. My husband was talked into a salad too.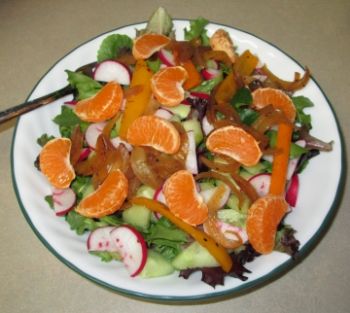 But it wasn't enough, so I baked some grilled cheese sandwiches. You can melt real cheese easier in the oven and the bread browns nicely in 3-5 minutes even without butter slathered on it.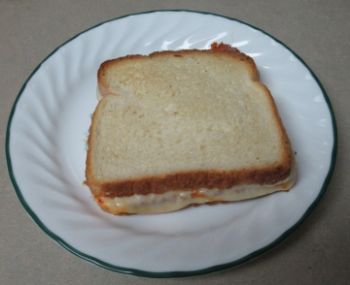 To top off my day, while watching 'Downton Abbey' I had the rest of the BBQ Peas from my NatureBox.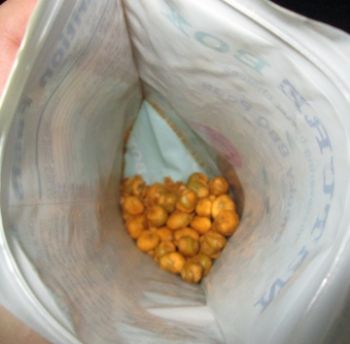 I did go to bed at a decent time, but read for a while, so sleepy time wasn't until after 11, then I had to get my husband to stop snoring, it seems that by the time I'm finally ready to go to sleep, he's in a deep sleep. I'm glad Monday is another day the kids don't have school, and it has nothing to do with the weather this time, but Tuesday might have another kid home day.
Weigh in picture tomorrow!