So, I took myself on a group urban 10 mile hike in Chattanooga Saturday. It was cold, cold, cold and sleety. And I was a big ol' cranky-puss. I set my alarm for 5:45 pm instead of a.m. so when I woke up at 6:30 thinking, "my, the sun sure is coming up early this morning...my alarm hasn't gone off yet," I bolted. Got myself out the door in 10 minute's time. I should've gone back to bed. My mood did not improve. I was achy, crampy, and I could not get the stitch out of my side. Well, that's not completely true...I finally worked through the stitch after about 7 miles. All good for just under 27,000 steps.
I did smile though so don't worry. There was a lot to smile about. Although cold and sleety, it was a beautiful day and the Tennessee river was just gorgeous. The ducks found some water that wasn't frozen over and huddled there. The birds were plentiful and all puffed up for the winter.
So yes, I smiled. I found joy. And, I felt accomplished.
I just had to avoid other people Saturday. Which you know, kind of goes against the point of going on a group hike. Ah well. I skipped the group lunch and stopped at a specialty grocery store and got some ginger raw kombucha, Ezekiel bread, and some fresh mozzarella balls and headed home for a big bowl of tomato soup and rested with the family by watching movies for the rest of the afternoon, reading in the evening, and a had very early bed time.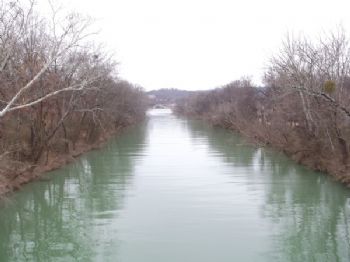 Chickamauga Creek leading up to the Tennessee River
This morning was absolutely beautiful. Temps at 40º and sunny. So I dropped carpool off and took Shine out.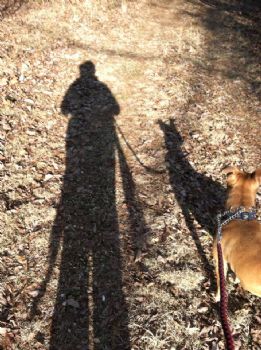 Shine said it's a beautiful morning to get out and smell the phooey, hike, and watch the birdies.
She also sat patiently while I did some stepups in the primitive campground area. Such a nice doggie she is.
My trainer drove by as I was stretching at the car. That should be good for some brownie points. Heheh. :-)
My mood matched the beauty of the hike and the morning. Shine was thrilled. Although, I did finish forming a blister that I started Saturday. I have GOT to get some shoes. I know, I've groused about it enough. Just do it already!
Have a GREAT day!
ETA: I ordered new shoes! The ones I've had in my cart went cheaper so I went for it. (If you read about these shoes before, I reported that they went up $20! Not only did they go back down, but they went down even cheaper than before they went up.)