Did you know that our brains are programmed to eat the rainbow?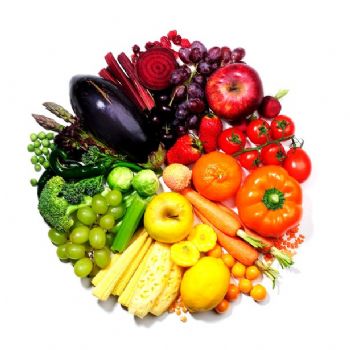 I've read this over and over again. Not only do our bodies need the nutrition from a variety of fruits and veggies, but our brains are attracted to colorful foods to help us get those varied nutrients.
Back in November, when I was knee deep in an addiction to M&M's, I even read about a study where a bowl full of all the colors of M&M's was left out next to a bowl full of a single color of M&M's and people preferred to eat from the multi-colored bowl.
And Skittles? Taste the rainbow, indeed. Brilliant marketing. And kind of evil.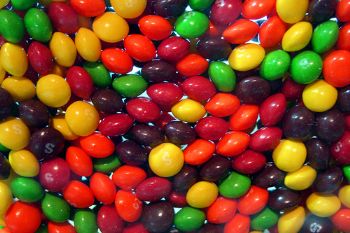 It took my brain a while to really absorb these things - the need for color/variety and the manipulative nature of these candy companies. And I started to be more mindful about it. When I thought I wanted M&M's, I paused and considered eating colorful fruits instead.
It actually worked.
More recently I read an article that listed easy tips for weight loss. Things like getting enough sleep, not skipping breakfast - nothing we all haven't heard before. But the tip I liked the most was to try to eat something red, orange or green at every meal. It occurred to me that I am already pretty good at this, but thinking about it makes it a little like a game. The article said to get one of those colors at each meal, but I would rather get all of them at each meal. This is easiest for me at lunch and dinner. At breakfast I tend to get just one of those colors.
I wanted to add purple to that list, but it occurred to me that the things I think of as purple are called red (red cabbage, red grapes, plums/prunes, etc.) So same-same.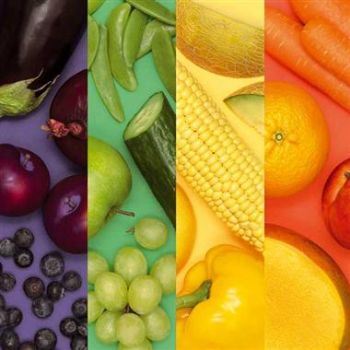 Right now I'm getting a lot of orange - carrots, oranges, a sweet potato last night. But in a couple months it will be strawberry season here.






I am counting the weeks until the strawberry stand I go to opens. Stephanie will be a happy mama!!!
The last few days I can't seem to get enough veggies. We're talking a pound of cauliflower in one sitting, 12 oz. of stir fry veggies and shredded cabbage or broccoli slaw all in the same day.

It's getting to point that I am ridiculously hungry and can't get full if I don't have a lot of bulky veggies with my lunch and dinner and sometimes my snack too.
I am still getting plenty of protein along with all this, so if this is what works for me now - I guess I just have to stay stocked up on veggies.






The real challenge for me now? Getting my kids off the candy and Lucky Charms type junk. Tasty red balloons? Seriously?!