Sunday, January 26, 2014
I can't believe I am saying this, but I feel a little guilty for not going to the gym day today. I know I need the rest day so I am enjoying it and I have used it well. I did go to the potluck with my turkey sandwich and no one batted an eye. One person there knew about my efforts from facebook, and apparently told a few others. All they want to do is encourage me, and there is nothing wrong with that.
Rick made food to bring as well, and here is a photo of his contributions.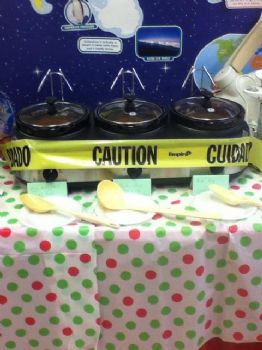 Happy to report that despite the ghost peppers, (one of the hottest known peppers) all survived and really enjoyed his chili and fajita soup. The caution tape was my idea and we all had a good laugh.
This is Day 5 of my PS 30-Day Challenge, and surprised that I am trucking along with it well so far. I checked out the offerings today at the luncheon and took some salad and a bit of chicken. I stayed clear of the dessert table. I did look at it, but there was really nothing there I wanted. (highly unusual for me.) Folks at my table were chowing down, but it did not affect me. I just ate what I wanted (no cheese, nothing fried) and I was perfectly satisfied.
I am going to encounter two business meals this week, and I might pack my turkey sandwich with some fruit to bring as a back-up just in case. I think it will be okay as is, but I am realizing that being armed with a plan and having it ready to go is so much more effective for me.
When I was talking to others about my plan and challenge, it made me quite aware how lucky and blessed I am to have such committed people in my corner. I am going to do whatever it takes to do my best to complete the challenge strongly so I can reap the rewards of a healthier me!