The schedule had 8 miles today and it was a toss-up if it was going to get done on the 'mill or the road. Having spent all week on the treadmill, I wanted to go outside. Hm, so I did!
Had a minor issue when I found the dam trails where I usually go were closed, but only to cars. Went the 'back way', parked and started out.
Weather: light snow in addition to the 2-3" fresh on the ground, temperature of 14 degrees
Mileage: 8.3 (with cool-down)
Intervals: 1:1, with some variance
Pace: 14:11 (you can't go too slow in snow)
Time: with the cool down and all about 1:59:00, yep, close to 2 hours
Weather by the time I finished: no snow, 23 degrees, wind was picking up
Route: Dam roads, snow-packed, 2 large hills on either end of course
I'm kind of proud of that 8 miles. First it's the LONGEST I've run--ever. And because the regular trails had way too much snow to be dragging my feet through, I stuck to the park roads--and yes, it was uphill BOTH ways and in the SNOW. LOL. In other words, I had to make a couple of long loops to make the miles. I met the guy with the snow plow and salt about 5 times. I'm sure he thought I was off my nut, but I waved to him every time just to cinch it in his mind.
Now about the fuel part...I have never used fuel or water as part of my runs--they've all been short. So I got an Amphipod water bottle. Here's a pic (bonus Sweets in the background, 'cause that dog knows a good product when she sees one or maybe she just wanted out?):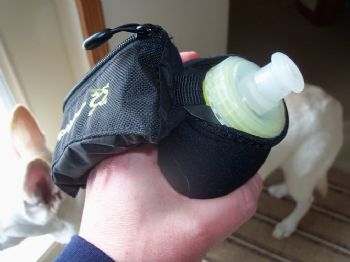 I thought it was great! The strap gripped my hand and it had a pocket for my cell phone, some fuel (see below) and my car key. Not too bouncy, it seemed just right and for the first time ever drank water on a run.
Fuel-wise, I'm also a newbie, so I tried these Shot Bloks: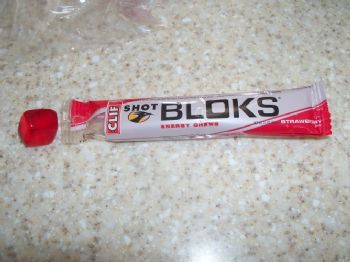 The 'dosage' is 3-6 of these blocks every hour during activity. What can I say? I had half a banana at the house before leaving, so I tried one of these about 45 minutes into the run. The temperature made it pretty hard and I found breathing and chewing two somewhat opposable forces. Gulped it down, followed by water. Tried a second one about a half hour later. Kind of burpy afterwards--strawberry--and a few bits hung on to my back molars. In fact, I think they still might be there. Not sure if it made any difference, maybe I needed to take them according to directions? Taste was okay, not a big fan of chewing that big of a block so would cut them down the next time.
For my next long run (week after next) I'll try some gel and see where that gets me.