Sunday, January 26, 2014
For those of you wondering why my activity has sky rocketed to oblivion. Its has come done to the reality of this , period -
SHOVELING FOR FOUR HOUSES !! The alley snow is to heavy for a snow blowers , in some areas !!
NOT IN CHICAGO _ I HAVE NOT SEEN THIS HERE -NO RIDING, YET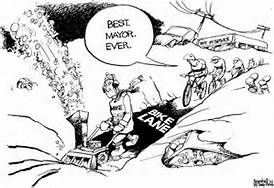 DH - DURING A SNOW STORM ! THE SUPERVISOR !!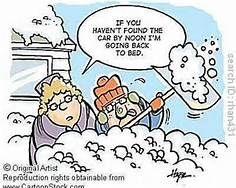 ME - PEACE AND QUIET !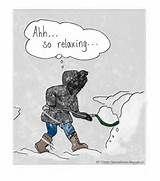 MY PARENTS HOUSE IN BURBS !! LOL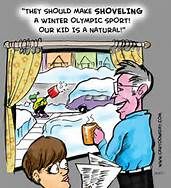 ( caption : THEY SHOULD MAKE SHOVELING AN OLYMPIC SPORT - OUR KID IS A NATURAL)
That last cartoon really sums it up for me - although I have always been on strict regiment in regards of training - the unplanned 45 " of snow that we had gotten in pretty much the last Month has doubled my fitness although some might think this makes me ALTAS ( not referring to any one on Spark) I do not mind shoveling - Just a couple of days off would be nice.
I feel - its hurting my ENDRANCE TRAINING FOR THE TRI as I am plum worn out - physically and mentally today - I am now preparing Homemade Chicken Soup and resting - I will pass on swimming until Saturday as to not risks the chance of over doing it!! Resting is OK - I have to tell myself that resting is ok !
Thanks for stopping by - Just some clarification ! Be back to normal fitness level soon !!
LiL exhausted Racer ( still planning on March Transition Tri and August Tri)