I only want to eat whole foods without additives (clean eating) which has turned me into quite the cook! Last night, I made these Pinot Noir Meatballs as an appetizer for our wine tasting group. Everybody loved them! Just don't buy the frozen pre-packaged meatballs like the recipe suggests (gross additives). I bought fresh Italian pork sausage and formed and cooked the meatballs first to add to the Pinot-cranberry sauce. Also, you can use agave nectar or honey instead of brown sugar, or use no sugar. Also, I sprinkled chives on top. I'm an artist...presentation is important!
http://www.julieseatsandtrea
ts.com/2013/12/cranberry-p
inot-noir-meatballs/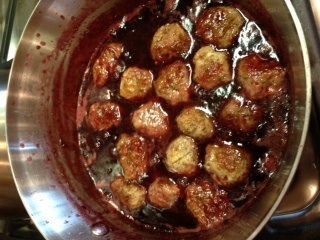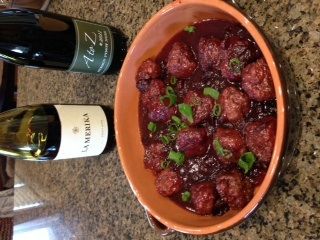 I also made these veggie egg puffs as an appetizer for my vegetarian friends. More veggies and less cheese would make them healthiest. You can also add ham, ground turkey or sausage. These would be great as breakfast egg muffins. Just portion them out into ziplocs and store them in the refrigerator so you simply have to reheat them in the mornings.
http://recipes.sparkpeople.c
om/recipe-detail.asp?recip
e=633654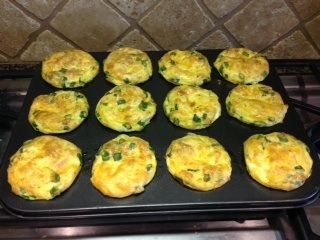 This morning, I wanted to use up some of the leftovers in my refrigerator so I used one egg and a lot of veggies plus two Pinot meatballs and made a delicious scramble!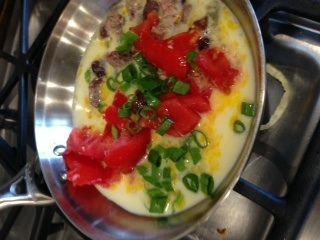 After Zumba, I was craving my pumpkin pie protein shake I discovered last week, but I was our of canned pumpkin. I had canned sweet potato and tried that instead. OMG, the shake is thicker and even better with canned pumpkin!
http://mealsandmovesblog.com
/meals/pumpkin-protein-shake/
It's funny, I'm losing weight even though I'm eating so much! I'm just eating "better" and more interesting food. My goal is that 1/2 my meals must be fruits or vegetables (and more often veggies than fruit). Also, because I only get 1200-1500 calories daily, I noticed that I am appreciating every meal. I am having fun cooking and finding healthy recipes that "I" like. In the past, my husband dictated what he preferred for dinner....pizza, pasta, tacos and hamburgers! Now I've put myself in charge of the menu planning and I'm loving my food and the process. My husband gets a little scared of my healthy food, but he is starting to like things like quinoa and chia seeds. He said,"wow, I don't get hungry golfing when I eat your protein bars! Can you make some more?!?".
I would love to hear about any of your favorite protein shakes or clean eats!
Happy eating!