This was a daunting run for me, very intimidating! I would never have thought of it myself. I had run the Rillito Riverbed the entire vacation (see previous blog), and I was enjoying it, but wanted a new place to enjoy. So I popped on to the local running club site, and this was the SAR for Southern Az Roadrunners), to find places to run, and this was among the places, and a logical choice, since I was familiar with the location.
When in Rome….
Sabino Canyon Rd is in Sabino Canyon, located in the Coronado National Forest, and one of the most popular sites to visit in Tucson. Great hiking, tram rides, info center and gift shop. Very touristy, always a lot of visitors. I did two wonderful hikes here besides the rave run, but I prefer other canyons to hike.
This Road is popular to bikers, runners, and walkers. 3.7 miles up, and 3.7 miles back. I stretched it into a LSR of 8 miles of pure inspiration. Come and see for yourself.
This is my first daunting look at Sabino Canyon Rd. The total climb in elevation is 635 ft. I had the place virtually to myself on this overcast, brisk morning (38 degrees).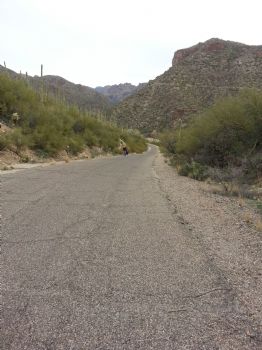 I knew it would take me longer than usual on this chosen run, so I allowed myself 2.5 hours to run to the top and back. While I knew the run would be challenging, I also knew the scenery would be a distraction;)
Yes, this is not only a distraction, it is inspiring! And I am doing it.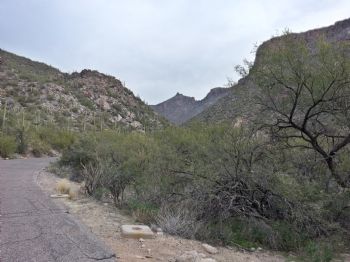 I made it half-way up the canyon. I was astounded how good I felt at the 2 mile Rock post. I am really doing it! I thought to myself that last year, this same time, I would not have been able to finish this run. Definitely not.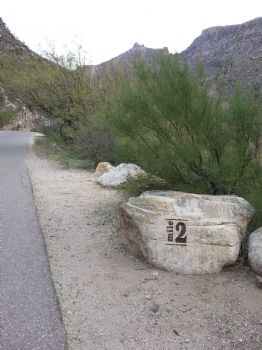 Inspiration all around. A stairway to heaven.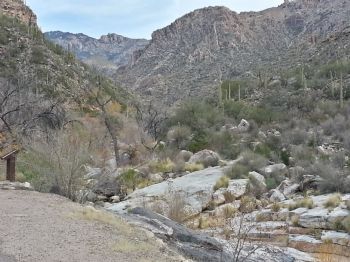 At this junction in the road, I am wondering when I will get to the top turnaround. Little did I know, I was almost there.
I made it to the top, in little over 60 minutes.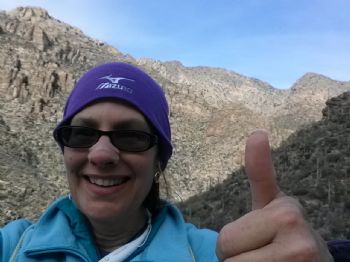 My rock of inspiration. I made it to the turnaround, feeling really strong, and all I could think about is that I will have no problems at the Asheville, NC Half Marathon in March. What a relief!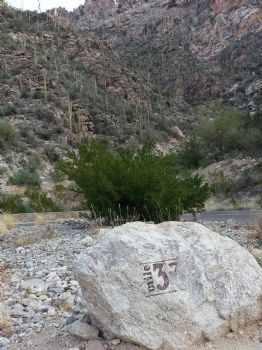 I stayed and enjoyed the view at the top for a few minutes. I did not want to cool down for the return decent, as I know how difficult downhill running can be. Please enjoy the panoramic view.

I made one final victory lap at the turnaround, and headed back down with a victory grin from ear to ear. I really tackled this mountain. Not a hill, a mountain.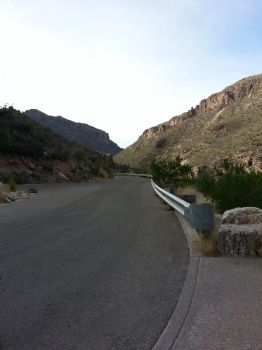 I am not taking the tram back; I am enjoying this run way too much, and the hard work is behind me.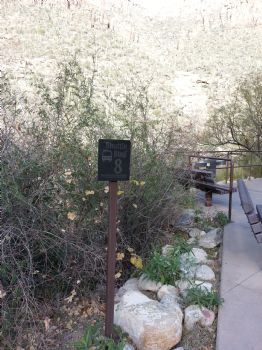 The skies cleared on my way back to give me a different view and it started warming up. This was our coolest day of vacation, high of 65. It was perfect for running up the Sabino Canyon Rd.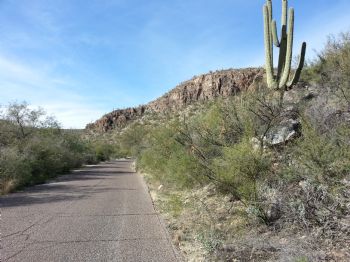 This run was not just beauty in motion for me, but a huge confidence builder knowing how far I have come in my level of fitness. It also gave me the confidence to challenge myself in my training for the Asheville HM.
End of run. Nearing civilization.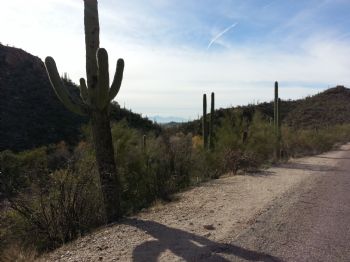 Time: 1:54:15, 8.22M, 13:55 ave pace. I took 4-5min walking recovery breaks every other mile.
Yes, I can.
Thanks for taking the tour with me.