Thursday, January 23, 2014
My inner teenager comes out when I go to Zumba. I like dressing like an 80's rocker. Normally, I dress very ladylike or simple in everyday clothes. I bought a bunch of fun, oversized print tanks and other colored tanks and socks to motivate me in class. I really get into my dancing and work it hard! Although, Albert Einstein doesn't have much to do with Zumba...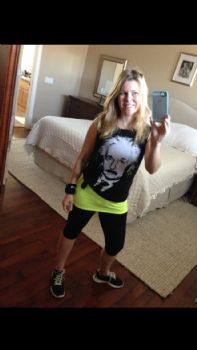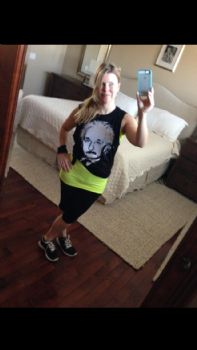 I also have my giant teenager print skull cup and I always down all of the water during class because I sweat so much.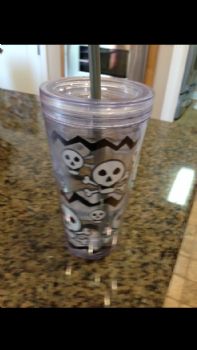 I was bringing a towel to wipe off all of the sweat, but now I've switched to a wrist band for convenience. The clothes have really helped me feel a little less frumpy and I've moved from the back of the class to the second row as my energy level has improved.
I am most unhappy with my puffy arms. I have bat wings when I hold them up. I can't stand seeing this! I'm posting my wings. They gross me out. I'm being brave posting them...ugh. I am going to lose fat off these suckers and mark my words..."I will tone up my arms by summer and continue to tone them for life because I can't live with these draping wings anymore!". My goal is to feel good in sleeveless tops! If I turn my arms at different angles, I can actually see my muscle definition. It's just that there is too much fat hanging around in the way! The wings must be in my genes ( my mom has them bad) and partly because I have degenerated discs in my neck so I don't lift because I'm afraid of neck pain flare ups.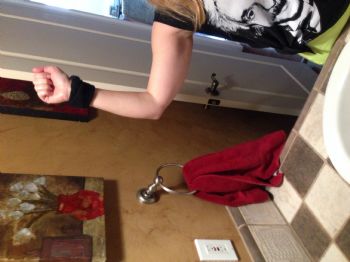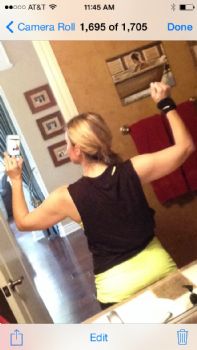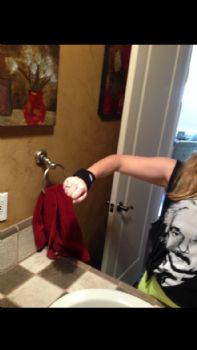 Bat wings=fat, flabby and 40. I don't want my arms putting me into this category any longer! I'm looking forward to yoga, dancing and my dumbbells helping me out. That is my routine for now. Arms be tone!
On a separate note...eating well. Steel cut oats and berries for breakfast with one spoon of peanut butter mixed in for Zumba energy!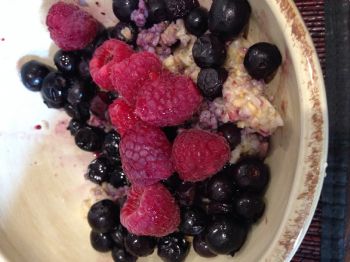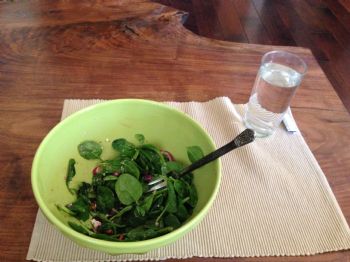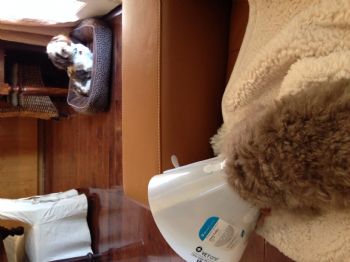 After Zumba I ate a huge spinach-cranberry-goat cheese salad right out of the salad bowl and at the coffee table so I could sit awhile with my dog and her cone. Off to an appointment and then walking later!