First… I went back up on my Armour Thyroid, and feel much better today than yesterday. Almost like night and day…
Second: I just got home from uptown. It is *bitterly* cold out there!
Third: In July I returned a bunch of bottles of supplements to Life Extension .org. They said they would apply part of the credit back onto my credit card, and carry almost $92 as a credit at their site (as product refund) plus $25 as membership credit. I was a bit concerned about that as I only received an email from them showing the $25 credit, not the whole almost $117 credit. But, I trusted them, that when it came time for me to put in another order, that my full credit would be there waiting for me...
Yesterday I called them about how much credit I had coming - knowing pretty much what I did have coming; and they told me I had ONLY "$25" credit. They NEVER applied the other almost $92 credit to my account. And, then - when I firmly insisted I had a lot more credit coming than that - he asked me, "Do you have any verification of what the credit was?" THAT question made 'red flags' go up for me. Cause I felt for sure that if I had said, "No." then they would have stuck with only giving me the $25 credit, instead of the almost $117 that I knew I had coming. But, when I told him, "I don't know for sure, but I do have a document of it somewhere here in my computer." And, so he put me on hold for a LONG TIME, and when he came back he said he had found the notes of the return in July, and that I did have almost $117 credit coming, and they don't know why, but it was NEVER APPLIED TO MY ACCOUNT.
THIS kind of behavior makes me not trust them. I had always trusted them as a really above-board company, but if a return is not credited, and they only are able to find that the customer does, in fact, have a credit coming, IF said customer has documentation of it… well, trust just went down the tubes with them. And, then they reaffirmed, that any time a product isn't right, or it no longer suits my needs, I can return all unopened bottles. Yeah sure… but I better keep really good records, cause they can just lose all records of me having a credit coming. And, then they just get to keep all my money!
~ ~ ~ ~ ~ ~ ~ ~ ~ ~ ~ ~ ~ ~ ~ ~ ~ ~ ~ ~ ~ ~ ~ ~ ~ ~ ~ ~ ~ ~ ~ ~ ~ ~ ~ ~ ~ ~
January 14, I decided to stop putting my 27 month old dog in the kennel at night, in hopes THAT would turn around his behaviors described in January 13th blog (link below):
www.sparkpeople.com/mypa
ge_public_journal_individu
al.asp?blog_id=5592583
I really thought that whatever issues he had with the crate (perhaps, I thought he was locked into the crate with the lights out at night at the puppy mill). I do know that his being locked in the crate at night caused him intense anxiety. So I thought that letting him out of the crate, and having just a puppy gate keeping him in the laundry room, would solve the problems. That he would settle down, and the 'contest-of-wills' thing would stop. So, I left the door of the crate open, and I even put a night light in the laundry room for him, cause I do know he is scared of the dark.
And, his anxiety did immediately drop - like a rock. And he was so happy. And, head-knocking between us stopped. Almost… There were some warning signs… Like the next night I let him on my bed (we like to have up to an hour together before I put them to their own beds), and he went up to take his place on my pillow (not allowed). I called him back to the foot of the bed, and he wanted to get really mouthy with me; threatening to nip my fingers. But, then he settled down. BUT, instead of laying BY my legs, he literally draped himself over my legs (a dominant move; being TOP DOG).
But, everything the 15th, 16th, 17th, and 18th, was pretty darn good; really calm and peaceful. He did periodically try to order me to hold him. But since he isn't supposed to DEMAND being held, he would do this whiny baby thing, like, "I'm just a little baby puppy. You have to hold me." Like I was supposed to get all sympathetic at his babyness, have it melt my heart, and do what he wanted. (He is, in lots of ways - not just this - a very manipulative dog. He even has it down trying to work out of one 'parent' what he wants when the other one won't allow it. Mainly that means that when I won't allow something, he works Chuck to over-ride it, and give him his way.) And, I admit that a couple of times I gave in to his "I'm just a baby" act, and held him. But, then I decided to completely quit letting him pull the shots. And, that is when the stubborn, willful, dominant dog came back FULL FORCE!
Sunday he DEMANDED I hold him, when I was doing work in the computer. He cannot stand for me to be heavy into any kind of work. So, he started repeatedly demanding I hold him. And, I kept telling him to "go lay down". So, as has been his pattern in the past when he doesn't get his way, he showed me, by literally saying "p*$$ on you". And, he went and peed up the laundry room (not in the potty tray). Now I know for a fact that he knows only to use the potty tray, cause the only time he pees up the laundry room is when he is upset at me. SO, I locked him in the crate for almost an hour. He didn't have anxiety in there. But he did get a bit more p.o.'d at me. When he came out of the crate he acted a little nippy at me. And, so I gated him in the laundry room until he could be more submissive.
Then last night he wanted to go down to Chuck's. I had already let him go see him, and had called him back. And, I told him to stay up here. I was talking to Chuck from the top of the stairs (Chuck was at the bottom of the stairs). Mocha kept wanting to go to Chuck. So, I told Mocha to sit. He didn't obey. I told him to "shake hands" and he got nippy with my hands. Not in playing either like he tries sometimes. But serious. As in p.o.'d. He would look intensely straight into my eyes as if to straight out tell me who is boss, and then he would get very nippy with my hands. I would tell him to "knock it off" and then again try to get him to "shake hands". Round and round. He was just absolutely determined to 'show me" who was the boss. Finally he gave in and did as he was told. Cause I wasn't giving in, and letting him get off without obeying the command.
Needless to say though, the dogs did NOT get to spend any time on my bed last night.
This morning right away, Mocha decided to tell me again who was boss. He refused to do potty. He refused to come when called. He refused to be on my lap. Yet when I was reading my kindle he stood there and barked at me, ordering me to let him up on my lap. I ignored him (telling him "quiet" just gives him the attention he is demanding, and with this dog, even negative attention is attention - NOT that he ever lacks for attention though). He spent much of the morning barking at me, ordering me to do HIS WILL. Just stubborn, willful, and demanding. I just spent the morning pretending I didn't even notice. Not correcting him, cause he even seems to thrive on corrections. But, ignoring him... well, that seems to get somewhere.
Later in the morning I called him to "come". He looked at me, but didn't move a muscle. So, I threw one of the shake cans (bottle with pennies in it) across the room (not AT him, but to get his attention that I meant business). Suddenly he came running. Nothing wrong with his hearing then.
A few minutes ago he started in barking at me again (cause I'm on the computer). When that didn't work he came over and started scratching at my hips and legs. I just ignored him. He gave up and is now over there sleeping with the other dog.
For 2 years this little dog has destroyed my life. Two years of almost no sleep; 2 years of nothing but a contest of wills. No more! I will work on 'breaking him' of his determination to dominate.
I will keep leaving him out of his crate at night. So, I can sleep. But, that little guy is going to get put some real submission training during waking hours. Not in an aggressive way. But, he will never ever get away with demanding anything: be it attention, food, going to see Chuck, anything! To get what he wants he will have to do something for it; he will have to 'earn' it. Any 'demanding' from him that I not do any work, will get met with him being locked into a crate near me; where he can see me but no longer be constantly breaking my train of thought so I get nothing accomplished except greater and greater stress. Any kind of demanding that he doesn't back off of when first told to, will earn him some crate time. I am done having my life destroyed by this stubborn, willful little dog. Telling me literally, "p*$$ on you", will for sure earn him crate time.
For the past 2 years I have said, "I didn't want to break him." But, he has spent the last 2 years breaking me, and destroying my life. Now I am going to break the little sucker. I will be gentle, firm, but consistent. All good behavior will be avidly rewarded and focused on. All bad behavior will be ignored when appropriate, worked on 'directly' to change when appropriate (like keep making him work with a command instead of biting at me), or locked up when necessary (a time out). But, from now on I will be working on systematically 'breaking him' of his determination to be TOP DOG.
What's really weird is that he really comes off in so many ways as anything but a dominant dog. He is manipulative and sneaky in his dominance; kinda passive aggressive, but on the way to becoming actually *aggressive*. I really think if I don't 'break him' now, that he will become a full-out aggressive dog. Cause gradually he has gained confidence in his ability to dominate and rule this house. Ain't gonna happen NO more!
I do think that with my getting the sleep I need at night, I will have enough energy during the day now to work on his 'issues'. I do think this can turn around in a relatively short amount of time. He's already shown a rapid shut-down this past hour, in his dominating behaviors, by my ignoring his demands today, all day. Sure it took all day, but it seems to be sinking in… He's been over sleeping now almost the whole time I have been working. Wow! I do know that being it is his nature to be a dominant dog, I will always have to be aware of it, and act accordingly to keep it in line. If I can save him though it will be well worth it. Cause he does also have a lot of really good traits.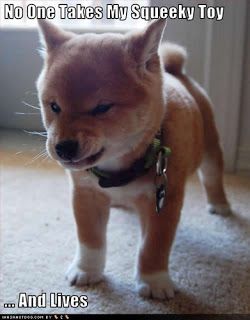 Mocha tried this *ONCE*! It REALLY didn't fly with me, and he ended up in the crate. He's never tried it again.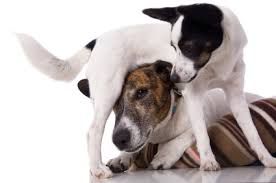 He tries this with both me and with Shatzi. Surprisingly, Shatzi, who would not let ANY of the other dogs bother him in any way, allows Mocha to lay on him.
~ ~ ~ ~ ~ ~ ~ ~ ~ ~ ~ ~ ~ ~ ~ ~ ~ ~ ~ ~ ~ ~ ~ ~ ~ ~ ~ ~ ~ ~ ~ ~ ~ ~ ~ ~ ~ ~
www.thedogtrainingsecret
.com/blog/time-seek-profes
sional-dog-training-aggression/
DO NOT use force or compulsion. I cannot say that enough! I have seen and heard about deplorable things done in the name in dog training and expelling aggression. Don't try them, no matter how frustrated or angry you are! Aggression incites and breeds aggression; learn to use your mind to get your dog to do what you want.
Even the smallest signs of aggression can escalate build on itself and lead to more serious and pronounced aggression. Aggression is no laughing matter, and even the smallest signs can escalate very rapidly into an uncontrollable dog.
Don't blame yourself. The old adage that if only a dog was "raised right" it wouldn't have shown aggressive behavior is an urban legend. I have seen distinct and ruthless aggression from puppies as young as 6 weeks. Sometimes good people get aggressive dogs.
~ ~ ~ ~ ~ ~ ~ ~ ~ ~ ~ ~ ~ ~ ~ ~ ~ ~ ~ ~ ~ ~ ~ ~ ~ ~ ~ ~ ~ ~ ~ ~ ~ ~ ~ ~ ~ ~
www.petwave.com/Dogs/Beh
avior/Dominance/Overview.aspx
Dominant behavior in dogs is a situation which can quickly spiral out of control. It is best to try to prevent dominant behavior from developing in the first place. A dominant dog will also be more aggressive with playing. The dog needs to feel that they are the "top dog" and have a tendency to try and show that all the time.
~ ~ ~ ~ ~ ~ ~ ~ ~ ~ ~ ~ ~ ~ ~ ~ ~ ~ ~ ~ ~ ~ ~ ~ ~ ~ ~ ~ ~ ~ ~ ~ ~ ~ ~ ~ ~ ~
www.petwave.com/Dogs/Beh
avior/Dominance/How-To.aspx
One of the best methods that you can use to prevent dominant behavior in your dog is to always use positive reinforcement. Reward good behavior with plenty of praise, petting, and an occasional treat. If your dog disobeys you do not hit, or yell at, your dog. This type of punishment can contribute towards the development of dominant behavior. Instead tell your dog in a firm voice, "No, Bad Dog." **Then place the dog in a **timeout area** and **ignore the dog** for a set amount of time.** Dogs crave attention and affection; your dog will soon learn that good behavior results in affection and attention, and bad behavior results in no attention at all.
Having rules around the home, and making sure that your dog follows them is also a good way to prevent dominant behavior. Do not feed your dog at the table, do not allow your dog to beg, and do not allow your dog to get on the furniture. Have a set of commands that you want to teach your dog such as sit, lay down, and come. Set limits to your dog's behavior, and let your dog know what type of behavior is acceptable or not through positive reinforcement.
~ ~ ~ ~ ~ ~ ~ ~ ~ ~ ~ ~ ~ ~ ~ ~ ~ ~ ~ ~ ~ ~ ~ ~ ~ ~ ~ ~ ~ ~ ~ ~ ~ ~ ~ ~ ~ ~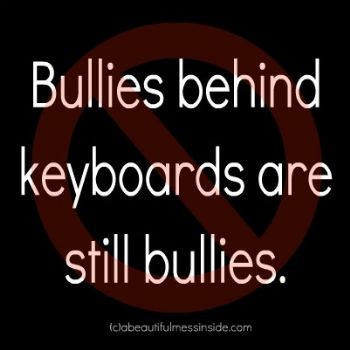 Most people are nice. Some are bullies. Bullies are actually cowards who really don't think very well of themselves. That's why they try to bring others down - to try to build themselves up; so they don't seem as low they see themselves as being. It's called 'leveling'. Don't be a bully. Live in a way that you can actually like and respect yourself.
~ ~ ~ ~ ~ ~ ~ ~ ~ ~ ~ ~ ~ ~ ~ ~ ~ ~ ~ ~ ~ ~ ~ ~ ~ ~ ~ ~ ~ ~ ~ ~ ~ ~ ~ ~ ~ ~