Tuesday, January 21, 2014
Today is was 6 degrees F outside. Sunny, no wind. I walked home from school and it was fantastic! I was giddy with excitement before leaving. I could hardly wait to hit the road. Put my long john pants on under my regular slacks, long john top was already on under my sweater, added my neck gaiter, plugged in my ipod to my ears, earmuffs on, sunglasses on, out the door. OMG it is so nice out. I got chilled for just a bit walking amongst some trees. Even though they are barren right now their branches cast shadows that I have to walk thru, no sunlight and it is cold. But I continue on. My DD phones and wants to know if I need her to pick me up on my route. "Nope" I tell her, "I will phone if I need you." I never do and I know I won't. It is too special out. I am watching my own breath in the shadow as I walk along. It is awesome. I can make designs with my breath and I find it mildly entertaining. My book is interesting and funny and I am going at a really good pace. I have to stop only once to catch my breath going up a hill. I am walking too fast I reason. My route home goes by quickly, too quickly. How do I cover so much ground so fast? I'm sure I don't walk any faster than anyone else but My God I love walking home. Sometimes I daydream that I am riding my bike. I can see myself pedaling along on the other side of the road, flying along and yet right next to myself. I love my life.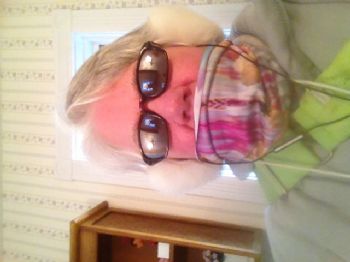 This is me after getting home today. Still have my backpack on. I don't look tired at all.