Rillito Park is a 24 miles of running path along the Rillito Riverbed in Tucson, AZ, where I spent my New Years vacationing. Luck me, travel delays gave me 6 extra days, yes 6!!!! extra days to run, hike and explore. The pictures will speak volumes to a run that is so inspiring that I forgot I was in training for my first HM!
I think I left my heart in Tucson!

I packed in 5 runs along this beautiful path at various times of the day, and at different sections for a total of 26 miles in 2 weeks. The only hills happen at the underpasses, and there is only one highway I had to cross.
I started my first run, which was a welcome LSR at sunrise. I was energized to be away from the Midwest.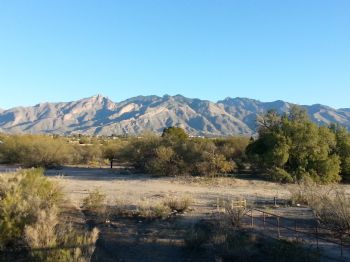 This trail is around 20 miles that runs along a river on both sides of the riverbed.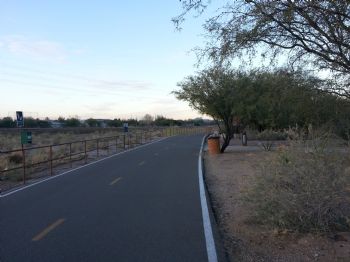 My selfie at first light, on my first run.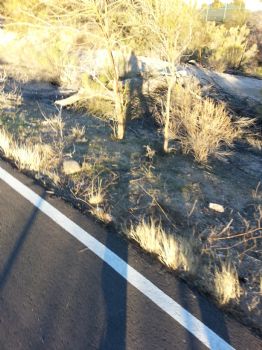 There are plenty of clean, accessible facilities, and community parks along the way.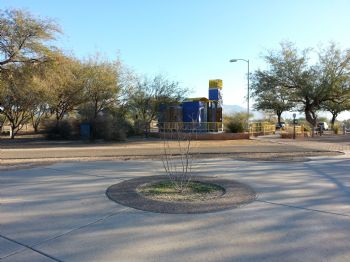 And a view that just kept getting more spectacular.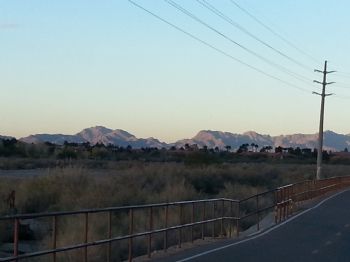 Here is my panoramic selfie!

The weather was perfect most mornings, 45 at sunrise and rose to 60 degrees, clear and sunny by the end of my 8.6 mile run on New Years.
My runs were effortless, and energizing at the same time. At first, the scenery was a distraction, but pure pleasure to be a part of nature. Other times, I felt the path was all mine!
At one point, I was listening to "Highway to Hell," but it really was a stairway to heaven! The eastern most part of the trail I did on New Years Day, 8.6 miles!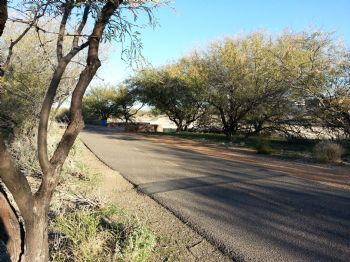 It was my favorite section where the landscape was lusher, mountains loomed in the horizon and gravel trails paralleled the path. I parked at Campbell Avenue, and ran to La Cholla Blvd.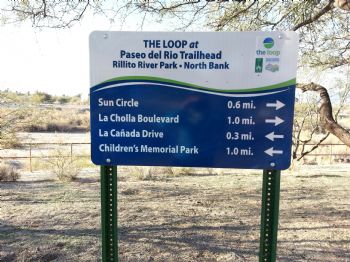 A familiar sign, but here? Really? Not today, thankfully. I saw more than one of these icy signs than I do in the Midwest, and chuckled as I passed. I know it gets to freezing at nights, but not on my vacation.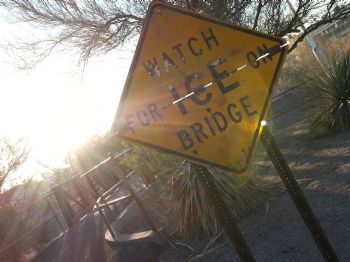 My sunset run, soothing to my soul.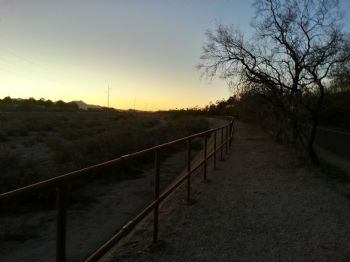 This was truly a RAVE Run for me, A+.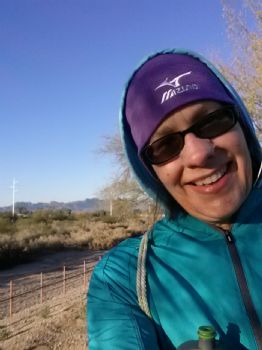 And the rest of my time was spent hiking these beautiful mountains. This was a 10 mile hike that took us to Seven Falls, Sabino Canyon (Surprisingly, I had cell service 5 miles into the canyon.)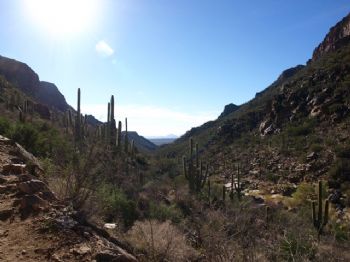 I have a RAVE RUN #2 that I will post soon, and maybe some highlights of my 16 to 20 miles of hiking. What a way to vacation. I could get used to this way of life. Actually, this IS my future retirement.