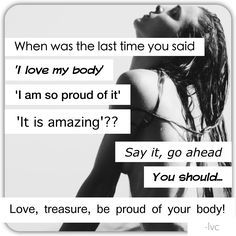 I LOVE my BODY ! It is not perfect looking according to society's standards. In fact most people would laugh at the fact I LOVE it. I never would make the cover of a magazine, if I wore a bathing suit on the beach people would turn away their eyes in shock. What matters is all the wonderful things it does for me each and every day.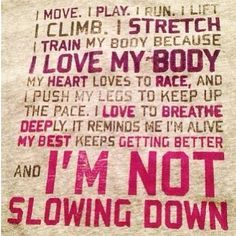 I love my body the way it is. It's been hard to accept that over the years my flat tummy grew and stretched super large so I could have 3 precious children. Now it is covered with stretch marks like a land map. It is a memory of the beautiful creations that were created in their.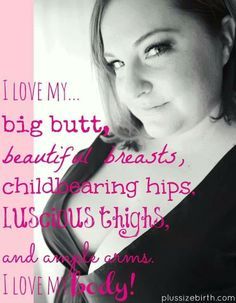 My body has changed from having children. My boobs GREW so they could provide nourishment to my precious children. My hips became wider. My body tells a story of love and sacrifice for the creation of life. I love my body.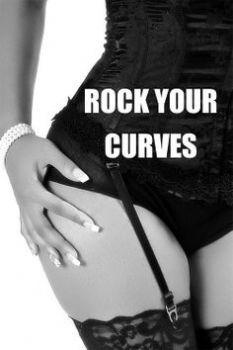 I love my thighs. They carry me here and there, too and fro, where ever I need to go. They carried me through the majestic Redwood forest, over sandy beaches, high on a volcano, and many oak filled walking trails. My thighs don't match one another. One is 2 inches smaller than the other, atrophied from Multiple Sclerosis, but I love my legs. I love all that they do for me. I love the many magical places they have taken me.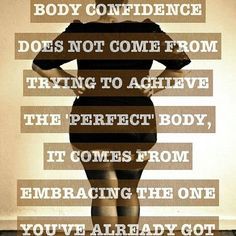 I love my curves. Yes, I admit I am an hour glass. My hips are in proportion to my breasts. My waist tucks in nicely even with me being overweight. You have to learn to appreciate what you have.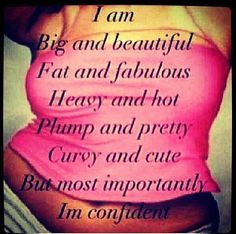 Love yourself the way you are. Each one of us has imperfections. Think of all the wonderful things your body does for you. It's amazing the miraculous things we can do with our bodies.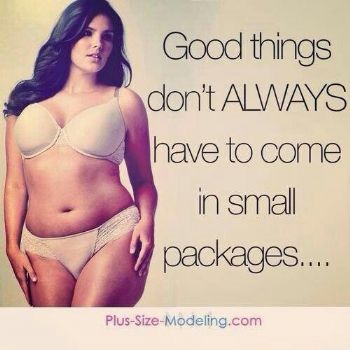 I used to think unkind things about my body and how I look with all my imperfections. It took growing older to appreciate all the fine things my body does for me. Now I love my body. I take care of it, feeding it the most nutrient dense fresh foods and exercising. Body love may take years to cultivate. Your body is a TREASURE no matter how it looks.
I love my body with all of it's imperfections just the way it is. My body keeps proving to me I am CAPABLE of more than I ever thought possible.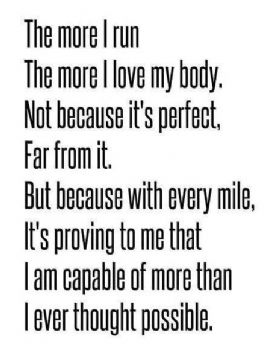 Take care of your body it's the only one you will ever have. Take time to FEEL GOOD in your own skin.
Yes I am overweight, but it is where I am. I am working on becoming a smaller, healthier, stronger version of me. It will take time, one step at a time. It will happen, noting is going to stop me. Love your body enough to be in charge, take control, and care for it the way it deserves.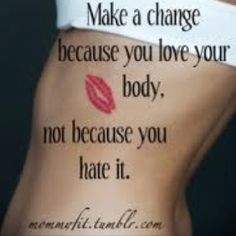 Love your body. Love it enough to make the changes you want to see.