One of the biggest ways I've made poor choices that work against my goals is to fall on "fast & easy" food instead of making it myself. With the potential of grad school coming up this summer and added expenses, we've been looking at ways to cut costs. I told my bf that I thought we could cut about $200 a month from our food budget by doing the Once a Month cooking stuff because of a few things:
1) We waste a TON of food. We probably have to throw out as many bell peppers as we use because we'll buy them then not use them right away and they'll go moldy. Which is silly since SO many times, the hold up on a recipe is 'I can't make that tonight, we don't have a pepper.'
2) Reduce/Eliminate eating out. Originally we said we could just eat out as a treat. After this weekend, it's seeming more like there will be at least 2 nights of takeout or eating out per month. The LAST thing you really want to do after a day of cooking nonstop is cook dinner.
3) Things don't generally come in convenient sizes for 2 people, so we end up throwing out a lot. For example, our ground beef comes in roughly 1 pound containers. If we're lucky, we can find packages of 0.8 pounds. We'll eat probably 2/3 of that depending on the meal and the rest gets thrown out. What a waste!
So... earlier this week I used a website (onceamonthmeals.com) to build a menu and plan a month worth of meals. Their system gives you 3 breakfast recipes, 4 lunch recipes, and 8 dinner recipes. You're meant to eat each of those twice. What we actually ended up with was 3 breakfast recipes, 3 lunch recipes, and 7 dinner recipes that we'll eat four times. We started our journey to the commissary with the nifty shopping list it gives you.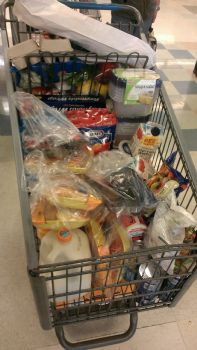 We had a pretty full cart with what seemed like an ABSURD amount of some items. About 20 pounds of meat went into the cart total between chicken and beef. For the shopping list given, minus the things we already had in the pantry & freezer, we got a month worth of meals for $156.
And then the fun began. Of course, we had checked out at self checkout because Friday evening right after military payday at the Commissary... NOT the best time to do a grocery run! The line to check out extended from the front middle of the store at the register all the way along the front of the store, then down the dairy aisle and around the back to the meats. So self checkout it was (It had a sign saying unlimited!) Of course, then we have people behind us giving us dirty looks, so we were in a rush. So that means things got a little rushed.
We walked out to the car, loaded it up, and bf asked where his credit card was. No idea. So we got to run around the parking lot spazzing out trying to find it. Went back to the checkout, not there. Went through the trunk full of groceries, not there. Luckily somebody turned it in and we got it, no harm done. Just a little bit of a nervous breakdown! lol
The night before the "cooking day" you're supposed to do all of your prep work. Chopping, any simple things that can be done ahead of time to make things easier. So I chopped. And chopped. And put things in baggies. And chopped some more. It took about an hour and a half on my coffee table watching a movie, not the biggest deal, but chopping 9 onions was NOT A LOT OF FUN.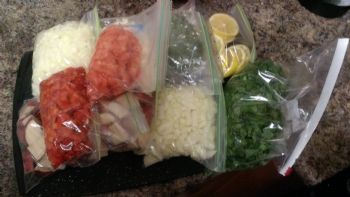 Off to a good start, all good and organized right?
Got up this morning, got my coffee, and started to work. And promptly got halted. Somehow, we were missing some groceries I distinctly remember buying. And I need them RIGHT NOW to make this food! Had to stop, rearrange, and send bf to the store. Things were pretty organized at the beginning. Starting to make a mess, but I got a SYSTEM dammit!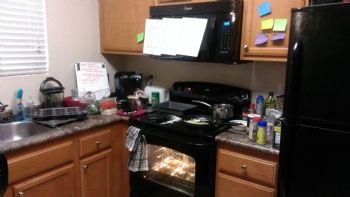 On an unrelated note, I'm a huge fan of post-it notes on cabinets with recipes. Seven hours and 3 loads of dishes later, this is what my kitchen looked like: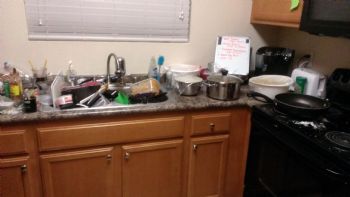 After just a little bit more work (at a much slower and relaxing place because most of it was just waiting for things to cool down), we finished up with all of the meals packed away nicely into the freezer. ISNT IT PRETTY!?!?
I had to take out the ice bin, and the door is full of my frozen fruits & veggies that used to reside in my freezer... but HOLY MOLY that's a lot of food!
What we made:
Breakfast:
--Greek Egg Bake (Egg white souffle-y thing with spinach, olives, feta, tomatoes, onion and other yummy things!)
--Spice muffins
--Breakfast Pizza (thin crust with egg, bacon, cheese)
Lunch:
--"Beefy Chili Pockets" (like homemade hotpies, I think bf will eat all of these because they're a bit hefty on the calories. Haven't done a count yet, but 2 biscuits = broke the bank I think!)
--Mac & Cheese (super tasty with relatively low calories, small portion so I'm thinking that with some cut up veggies for lunch would be reasonable)
--Pizza Muffins (OMG THEY ARE SO TASTY. I have to run the calories on these to see if they're evil or not.)
Dinner:
--Cheez-it chicken tenders (They sound super unhealthy, but they are baked with no oil and have about a quarter serving of cheez-its per serving of tenders, so they shouldn't be too bad)
--Chicken a la King (I'm not excited about this recipe. I can't see much nutritional value, and it just smells funny)
--Chicken Fajita Melts
--Chicken pockets
--Garlic chicken pasta salad
--Greek Chicken Packets (Foil wrapped chicken, lemon slices, a few red potato pieces, olives, tomatoes, and feta... all baked and yummy!)
--Meatballs in marinara
Overall I'm really excited. Next month, I'm going to choose recipes that look tasty but are healthier. Some of these I won't be able to eat a whole serving, or will have to let bf eat as his meals instead of mine. I haven't done the calorie calculations yet, but I'm eager to find out! I'm eager to see how this works out as we try the warmed up versions over the next few weeks.