This morning brought to me a feeling of I CAN AND I WILL . Some days you just wake up ready to tackle the world.. Today is one of those days..
It started out walking the Bear while the sun was out and the snow was still falling.. It made it look like thousands of diamonds lay in the snow.. it is truly beautiful out there.. Not sure if you can see the twinkle .. but it is there.. trust me..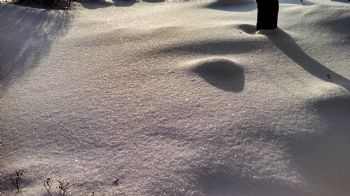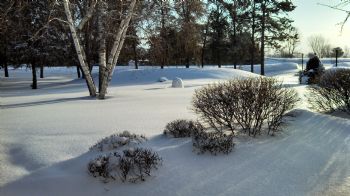 So what a wonderful way to wake up and seeing that kind of beauty to just be humbled and grateful for this day !! Bear was grateful too.. he needed to go !! LOL
so onward we go ... into this lovely Sparkly Day !!
Now this is no easy task and I won't say I have been 100% .. but with everything it takes time to change habits.. if you feel like carp .. give NO FLOUR / NO SUGAR a try .. I think it really takes a few days to get it out of your system.. but hey we can try anything for a week and see what it does for us..
I am going to try to make it easier by posting Awesome food I make while doing NF/NS with my Stefigurl !! Give it a try !!
for breakfast this awesome contraption... Don't be scare of a little adventure here. it was very good and filling..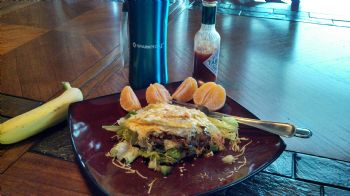 so here it goes in order from bottom to top
romaine lettuce leaves ~ 3
pico de gallo ~~ 2 tbs
turkey susage patty ~ 1
Wolf no bean chili ~~ 2 tbs
2% shredded cheddar ~~ 2 tbs
eggs ~1 whole , 2 ~ whites
Tabasco on top
2 fresh mandarin oranges ...
very filling and quick.. Lettuce instead of hash browns.. what a concept LOL .. maybe not every day but I got lots of veggie/ fruit in already and well I will have it again sometime ..
Have a Wonderful Saturday SPARK WORLD !!
hugs, love and light,
Dawn