I'm sick again.
Which is crap. Total crap. I am NOT a sick person, ever. And now this is the 3rd time I've had to miss work because of illness since Thanksgiving. Trevor and I both caught the crud while we were in TX on vacation. I spent our travel day crying and walking through the airport just wanting to be home in bed. I am not a good sick person.
Then a couple of Saturdays ago I was throwing up from 4am to 10pm. Trevor had to call the nurse on duty and get advice on what to give me to help. It was ice chips and sips of water then moving on to white food. HORRIBLE day. HORRIBLE.
Then this past Wednesday I was driving to work and felt like I was in a fuzzy cloud. I was seeing little spots and thought "crud, I'm getting a migraine." I took some tension headache medicine and made it through job 1, then headed to and made it through job 2. My back was killing me and my neck was very stiff. After dinner I noticed it began to hurt to swallow. Then my ears were clogged, then sneezing and coughing and finally, just before bed, my skin began to tingle. Then as I was going to sleep I felt my sinuses clog up and then I got the chills. BAM!
So yesterday I woke up in a horrible state. I still went to my work because that family is never home when I am cleaning and I wear gloves and disinfect as I go along. Well, the lady of the house came home and instantly noticed that I was not myself (I mean, again, when I'm sick- I'm really bad at it). So I called the appointment line to get to see a doctor. They told me they had to have a nurse call me first to discuss my symptoms over the phone to see if I REALLY needed to see a doctor.
I'm sorry. WHAT?!?!? To see if "I really need to see a doctor???" What kind of crap is that. I have been under Tricare for 3 years now and I have been to the doctors office exactly 3 times in those 3 years. Once I was basically laughed at because I wanted to just have an annual physical. And apparently now that is only recommended only every 3 years. So unless I'm dying I don't really need to see a doctor and what, waste their time? They are doctors! I am allowed to see them if I want to. So the nurse called me back and went down my symptoms and decided that "it sounds like the flu. You should take some robitussin, drink hot tea with lemon and honey, and relax at home." Yeah. I'll just tell my clients the nurse on the phone says it sounds like I have the flu and need to stay home till I'm better.
No way. I want a swabbing, I want a note, I want to be SEEN. So I made that clear. And I was asked "so you want to forego my advice and see a doctor then?" Yeah. That's why i called the appointment line first and not the nurse on call line. I got to see a doctor (the 3rd one I've seen now on my team of doctors) who actually took her time and examined me, went through all my symptoms. Did a swab test for strep throat, and determined that I don't have the flu. I have a sinus infection on top of a cold and being exhausted. Oh, REALLY??
So now I'm on antibiotics for 5 days. I got a note that I was able to scan and send to my Friday and Monday clients so they know I'm not full of it and just wanting a day off.
If you've read through all this, then either I'm an interesting writer or you are a champ. It is 2 in the afternoon and I am finally able to tolerate seeing my computer screen. I have managed to walk the dog to the corner twice now (I mean, me being sick doesn't make her NOT have to poop), made and kept down some food, and spent the rest of the morning in a leaky state on the couch. If It's not snot on drip, it's tears or me hocking up something that looks like a tiny dead alien. Any movement creates a pounding sensation on my right temple so strong that I've been basically good for nothing. Poor Trevor came home to my sad a$$ on the couch, he hates seeing me in less than perfect state, but he is a very very good caretaker.
So he set me up with Seasons 1-3 of "Downton Abbey", a box of tissue, hot tea and a trash can by my couch.
Needless to say, there is no wall sitting in my immediate future. No 20 min cardio blast workout today.
We'll try again tomorrow. There is always a tomorrow!
Angela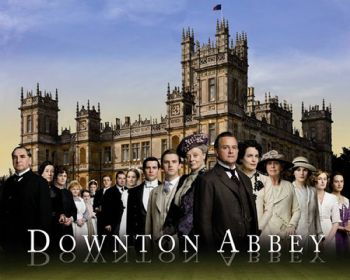 I feel really fancy watching this show.