I reverted back to baby food today.
Why?
Why not!? This stuff was GOOD!
I had been helping a friend move stuff from one part of her house down to her basement. Nevermind why. But I wasn't terribly hungry. I'd had some "Millennium Nuts" earlier today and well...yesterday...and um, yea these were healthy nuts, right? Almonds. Cashews. Pecans. Macadamia nuts. Walnuts. Might have been peanuts but not enough that I noticed. But then... Some are raw, some are roasted salted. So that's not too good. And thennnn some of them are covered in dark chocolate, that's good. And some in white chocolate. And then milk chocolate. Annnnnd well some are covered in chocolate drenched in Gran Mariner (syp?). Some chocolate Irish Cream Bailey (or Bailey's Irish Creme? I'm not very sophisticated so far as the liqueurs go!!). And ummm my favorite? Chocolate with Amaretto. Oh maybe some chocolate with coffee? Also just some out and out chocolate covered malt balls. Pure junk.
Needless to say, this was one pound of nearly deadly... Yummy, but I needed to parcel out to like 2 oz a week or some such. As far as I am concerned, the "apple theory" can go - Eve had to have tempted with a handful of this stuff, and Adam didn't turn it down when she offered it to him (and the Serpent lied when he said "You shall not surely diiiiiiiiiiieeee!!!?").
On the way home, I decided I was going to go to the gym for at least 15 minutes, in spite of how tired my legs were (still are!). I also decided, continuing in the spirit of repentance, to go by the store and pick up some freggies to juice tomorrow. But I needed to see if I could find a baby product I had used years ago, and while in that section, I saw these packages of "Ella's Kitchen organic ..." squeeze packages of blends - some fruit and veggies, some fruit and grains or veggie and grains, etc. I remembered then that I had read an article about them (where, I don't know?). But the ingredients checked out and I was a bit hungry and didn't want to be too full at the gym. I tried these two flavors -
Picture 1 (front) Ella's Kitchen "Apples, Carrots, Prunes & Butternut Squash"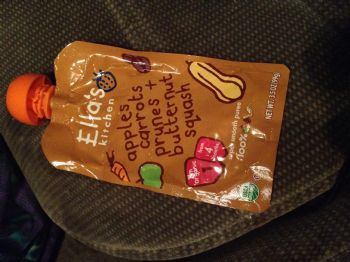 Picture 2 (back) Nutritional Info (still need to track it!!)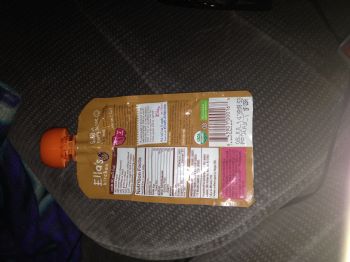 Picture 3 Ella's Kitchen "Carrots, Apples, Parsnips"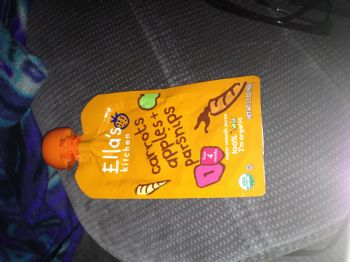 Picture 4 (back) Nutritional Info. And SparkPeople uploader tilted them sideways!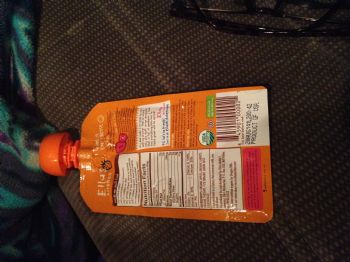 They sound a bit doubtful, but were very tasty - like a applesauce type texture, a little more liquidy, since the kids got to suck this stuff out of the bag (or mom/dad need to squeeze a bit into a spoon. I actually bought four different flavors but these were the two I had tonight.
It also occurs to me that these were much tastier than the crud passed off as " food" in nursing homes, care homes, etc. Next time I need to do care taking for an older relative who doesn't want to eat their freggies because lt tastes awful (or they don't have teeth etc), this is something I will get and offer them a taste. At least I know * I * wouldn't turn it down, if I was in the hospital!!
So I guess the moral to the story, as if I actually have any morals, is that when I space out and eat enough "junk food packaged as healthy food" to make me feel bad, it's okay to antidote it with Fruits and Veggies, even if it means taking Baby Food to go with Baby Steps!!
""""""""
Good point - I forgot to mention that these bags are 3.5 oz (99 grams). Not really an "adult serving" for adults, which is why I ate two tonight. However, 3.5 oz of freggies is a lot better than the average 1-1.5 oz stick of diet dynomite that gets passed off as "healthy candy" in the vending machines, I'd think!!