Wednesday, January 15, 2014
Last Sunday, I met my cousin (my mother's sister's daughter) Mary in church. They had a special service for her as she had turned 90 on Saturday. I didn't know that she was back in Ernakulam as she had moved to Bangalore (It is a bigger city and not on the coast) with her eldest grandson who had a great job going at a software company. Mary had lost her Son and Daughter-in-Law in a car crash in 2005 and the Grandsons took good care of her after that. But this year I understand she couldn't manage the severe winter in Bangalore so she decided to come back home and her eldest daughter still lives in her house here.
So after meeting her on Sunday, we realized we had lots to catch up on, so I got Lizzy and Lucy together and we thought we'd make it a nice foursome of cousins. I was amazed to see Mary all dressed-up and waiting for us by 5:00…… She seemed completely healthy but for the walking which she actually managed with a cane and a care givers support but said she used a wheel chair when she went out as she didn't want anyone to "Cast an evil eye" on her. We had a good chuckle at the thought of anyone wanting to cast an evil eye…. But Praise the Lord, other than failing eyesight, Mary was very sharp, we had a good time re-calling old times….. infact she regaled us with stories that I didn't even remember till she mentioned them….. there were some 80 year old stories that she recalled with vivid details, our grandmother's home where we spent summers together…… Then we discussed the next phase where we discussed about our husband's & in-laws….. then the children….. God our stories would never end if our backs didn't hurt so much…..
Mary had never seen my 2 great-great-grands, Megan and Cyrus and nor had she met Maria, Megan's mom so here are some pics with my Cousin Mary blessing my DGGDIL Maria….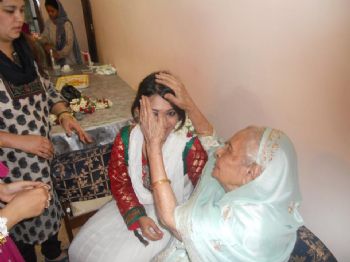 Don't miss her all dressed with a gold embroidered silk sari and the bangles….. her daughter Nancy told us that she started getting dressed since 4 and had her nurse comb her hair thrice and then covered her head as she thought her hair was looking to sparse….. God bless my Mary and her vanity, i remember as young girls too she would spend hours dressing in front of the mirror and she definitely did not approve of the toothless me.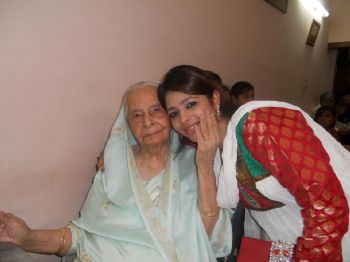 My dear Maria too loved her great-great-grand aunt.
She didn't let us click pics of her with the kids because of the evil eye…..
God Bless You Mary…… hope to meet you again soon.