Some of you know that I like to read ... a LOT and on as wide a variety of topics as possible. Basically ... I'm an info hoarder. Big time.
So after loads of reading of loads of articles here, on other sites, and reading loads of books on health, fitness, exercise - and biographies from people doing ridiculously amazing and inspiring stuff ... I'm working on cooking up some B.H.A.G.'s so big that at this point - I have to research. It's fun. Please try this. It's really insanely fun.
And ... this morning I dug out my tape-measure. Up until now I'd only used the scale ... but that's so one-dimensional. It's not because I didn't remember the good old tape-measure that I haven't used it in the previous 43 days ... but because I have one of those numbers heads ... still remember my high-school locker combo, remember the number of pages in my favorite book, ... and I remember all my measurements from before.
And ... so what. This is now - and I don't want to miss any part of this transformation ... so I busted out my tape-measure and wrote the numbers down - happily. Because I know they're not static ... or moving in the "wrong" direction. I can tell that I feel stronger, fitter, can breathe better (THANK YOU!! - you KNOW who you are!), and can tell when I move that I "bump" into me less ... and it's not about perfection ... it's about EXCELLENCE.
Recently in the course of reading Dr. Brene Brown (she did 2 fantastic TED-talks on shame & vulneratibily - check them out!) I stumbled across a comment she made about the difference between being a perfectionist and excellence. It hit home. So I read some more stuff. That hit home too ... so now I am trying to intentionally switch from perfectionism which I'm so good-ish at (eek. Seriously people ... I need to not vacuum every. single. day.) to being a mad mad proponent of all things Excellence. Excellence is an attitude - a passion - a commitment and it's about the big picture. Perfectionism is an impossible rule measuring happenstance moments. Excellence trumps perfectionism.
And ... I'd hoped to cross-country ski again this morning before returning all the equipment - but it was so icy that instead one of my students and I just walked around a bit.
Here's the marsh I live near. I spend a LOT of dog-walking, biking, hiking, bird-watching time here.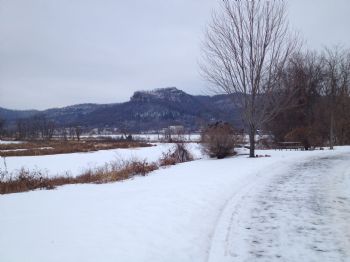 they're building a "family" jungle-jim at the park. My student and I saw this and she looked at me and said "I'm in your family - right? We're going to come here?" ... "Darn straight!!"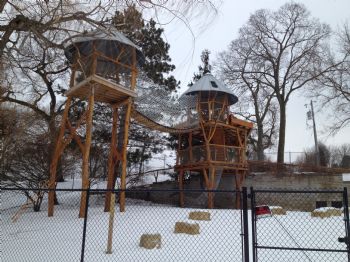 and this is how we treat tired dogs around here ...