Happy Monday... Just think..after we get through this week, most of us will be having a three day weekend. Ahhh a three day weekend will be so, so nice.
My weekend was pretty good. Friday after work I had a terrible headache. The day was super busy. I didnt even get to eat lunch until after 2pm! It was a long day and I was happy for the week to be over. I ended up just lounging on my couch for a while and going to sleep around 9pm because I was pretty exhausted and I knew I had to be up early to run the 10k!
On Saturday morning when I woke up it was cold and I did NOT want to run the race. The thought of having to drive an hour and a half to run in the cold was not enticing at all. But I paid $50, I wanted my race medal, I wanted to finally say that I ran a 10k, and I knew I would feel so much better if I just did this instead of staying home and eventually wallowing in self-pity because I didnt run the race. So when my alarm went off at 6am, I got up, made some oatmeal for breakfast, and got changed into my running clothes.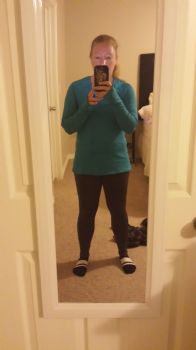 It's been a while since I've run in cold weather but back in December I purchased an under armour cold gear top and bottom - both are fleece lined, and it seemed like the perfect day to finally wear them! I got in my car and drove the hour and a half north. It was mostly freeway and there was no traffic at 7am so that was good. I made it to the race location which was a soccer complex, at around 8:45ish. The half marathon was just about to start as I was getting checked in and getting my goodie bag, long sleeve tech shirt, and bib. I threw everything my car, pinned my race bib and then debated for a few minutes whether to wear my black running jacket or not. The temp was actually around 47 degrees, but the wind was making it extremely cold. I decided to stick with the jacket and a hat to keep my head warm.
At 9:15am we all lined up and we finally started the race. There was still snow/ice on the trail but it was mostly towards the edges so you didnt have to run on it. I have been training using the run/walk/run method with intervals of 4 mins run and 1 min walk. This was the first race, though, that I've actually employed the method. It felt weird to start walking after only 4 minutes and I only saw one other person using the method, but it really seemed to work. The first mile was relatively flat but I warmed up quite a bit, and during the second mile I struggled to get my jacket off and tied around my waist, and get my bib pinned to my shirt. The second and third miles were also uphill, the second being the worst. I have been running pretty much only on the treadmill the past few months so my body was definitely not prepared for hills! I still pushed through. There were plenty of water stops which also helped. After I hit mile 3, we turned around and headed downhill was really nice for the next 2 miles. My pace was picking up and I was feeling a lot more comfortable. I passed everyone that I had been eying to pass, which was also really nice! After the 5th mile, we stayed relatively flat for the last mile and I really dug deep and pushed myself. My goal time was to finish in 1:10, and I ended up finishing in 1:05:44!!! That was an avg pace of 10:36! Woo-hoo! Not only did I complete my first 10k, but I beat my goal time!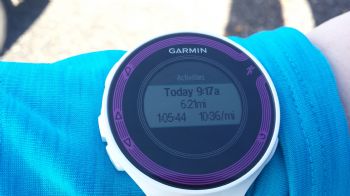 This was also my first time using my brand new Garmin 220 that I got for Christmas and I am already in love with it! My favorite part is that you can set it for run/walk intervals and it vibrates to let you know when its time to switch. It also vibrates for every lap, which I have set for miles, of course!
My stats from the 10k:
Distance: 6.21 miles
Time: 1:05:44
Avg Pace: 10:36 min/mile
Elevation Gain: 182 ft
Calories: 706
Splits:
1 -10:49
2 - 11:17
3 - 11:06
4 - 10:18
5 - 10:11
6 - 10:14
.21 - 1:49 (8:36 pace)
After the race I immediately left. They were doing a bunch of raffles, but I was cold and just wanted to head home. Yay for seat warmers in my car! The long drive home was pretty uneventful. I ate some lunch when I got home, took a nice hot shower, and then relaxed for a while. I needed the rest. Then I decided to finally start working on my Health/Fitness Smashbook that I had planned to start. I have decided to basically document the year's health and fitness related stuff. I am planning to update every week with the workouts that I did, and monthly with my weight and measurements. I also plan to document the races that I do and any other stuff that looks interesting. I am hoping this will keep me actively accountable, too :) These are the first three pages that I did. Still planning to add a page for the race, but I am waiting for pictures to be posted first (you can download them for free!).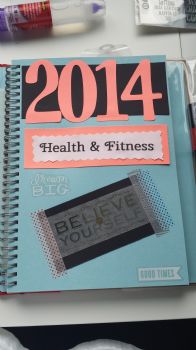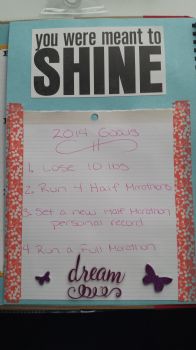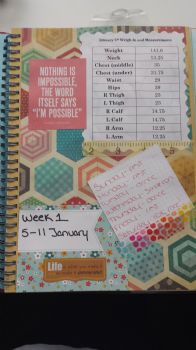 I was really glad I started the book, and I am definitely feeling more in the spirit to work on my scrapbooks, too!
While I was working on that my friend who was in town for work asked me to come and visit her at court so I drove up to the Academy but when I got there they were just about to announce the verdict. I ended up waiting for her for over an hour until she could leave to go to dinner. While I was there, two people I know who were there from out of town asked me about my boyfriend, and I had to tell them we broke up, and it was a bit upsetting, though they didnt ask any questions or anything.
Eventually Jen and I went to a local sushi place that I had never been to. The food was good, but surprisingly expensive! We chatted for a while and she was leaving the next morning to go back to Alaska. I got home around 9:30pm and felt incredibly sad and missing the ex. :( I guess Saturdays will be the hardest. *sigh* But I read for a little while and then went to sleep.
Sunday I slept in until 8am and that was so nice! I booked my stay in Disney World finally for the Princess Half Marathon! My mom is going with me, and I wanted it to be a special trip for us between her chemo and my breakup. So we splurged A LOT and we're staying at the Beach Club Resort, and we got the meal plan. I am so, so excited! I cannot wait...only like 6 more weeks to go!
I went to a lunch meet up yesterday at a Chinese food restaurant. There were three other ladies at the meetup and they seemed real nice, though I didnt instantly click with any of them. Making friends is hard. I know its unrealistic to think I will be instant best friends with any one, so I just enjoyed the lunch and will probably go to some more meetups with this group, though honestly nothing that is coming up looks all that interesting.
After the meetup I went grocery shopping and then came home and cleaned my master bathroom - like scrubbed and everything. It looks so nice now :) Then I threw some food in the slowcooker to make a paleo Balsamic Chicken and Sausage meal. It smelled delicious but I havent tried it yet. I relaxed the rest of the evening by watching Netflix and working on a cross stitch and then went to bed around 9:30pm.
What a weekend. Back to work this week - looks like another long, busy weekend, but I am looking forward to the three day weekend! I have court next week, but I am hoping since it is a guilty plea case that my client and I wont need to come in and meet with anyone over the weekend.