Weigh In Sparky Monday
Monday, January 13, 2014
Quick quick quick post!
This weekend went surprisingly well… I already told you about Friday. Well, Saturday and Sunday I kept my eating under control and tracked and stayed within ranges! I also had the bonus moment of my mom telling EVERYONE in Victoria's Secret that I was trying on shapewear because I'm too fat for a bridesmaids dress, awesome. And yes I scored some dirt cheap awesomely nice shapewear and avoided the food court. BUT Knowing I was going to weigh myself today kept me from pigging out on snacks from the pantry yesterday!
I spent a little over an hour in the kitchen after grocery shopping yesterday. I made soup in the slow cooker for lunches this week, chopped veggies, and made these delicious breakfast paleo "muffins":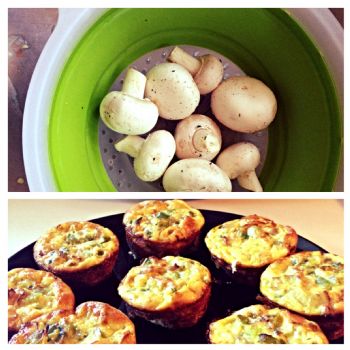 I surprised myself – first time I have ever bought and cooked mushrooms. And I LIKE IT. Whatttt! Plus Instagram made them look super cool.
Even MORE surprising – I did a workout video yesterday! On a Sunday afternoon! [Side note: perhaps this is what happens when your team doesn't make the NFL playoffs so your Sundays are not as stressful and consumed with beer and snacks?!] I did a hip hop cardio video and although I am horribly un-hip AND un-hop, I still broke a good sweat! ON A SUNDAY.
So my weigh in today was good. Down to about my pre-holiday weight. I want to keep seeing it go DOWN. But eating right, no booze, and slightly more exercise worked - imagine that!
Today I am training folks in another country via a webex for two hours this afternoon (read: sitting at a computer for two hours) Right after that I am heading to an early birthday girls dinner. I think I am going to allow myself to break the no alcohol during the week thing for today only because that is special. I did my 20/20/20 this morning and have been trying to get up and about as much as I can before this afternoon. As long as I can keep this somewhat 80/20, I hope to keep it moving!
Tomorrow I have my doctor's appointment and a busy day, but my food is already prepped and I feel prepped too. Let's roll!