I was in Walmart yesterday to run some errands and what did I see but our very own Coach Nicole!!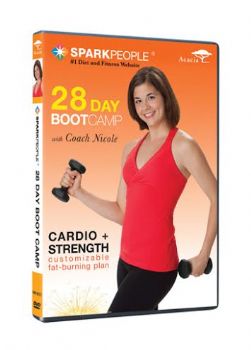 OK, so it was her new 28 Day Bootcamp DVD, but it was Coach Nicole! And the very DVD that I've had the privilege to try over the past couple of weeks! How awesome!
I find the workouts to be fun because they are different yet build on the skills presented the day before. Best of all, there are different levels of coaching presented in the video. So, if I'm not as fit and flexible as Coach Nicole, no worries! There is a beginner and an intermediate coach I can select to follow along with. That's key to keep me coming back ... show me someone at my skill level! The modifications are easy to make and I still feel like I'm getting an excellent workout. Best of all, I see that I can and will progress in my fitness as I continue to follow along.
Coach Nicole has a plan for me ...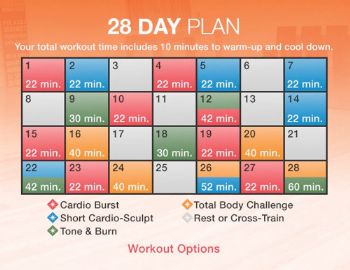 Every day, I know rather it's a Cardio day, a Cardio-Sculpt day, a Tone and Burn day, a Total Body Challenge day, or a Rest/Cross-Train day at a glance. And, if I don't want to follow the plan on the DVD, I don't have to; I can set my own plan still using the DVD. Now, that ROCKS!
I'm most pleased that the plan has me wanting to come back. It's fun and it's interesting. I'm not bored! So many DVDs are the same thing day after day so that I can mouth along with the instructor. Not so this DVD! Coach Nicole is exciting and creative. She "makes" me want to come back and see what she's going to do today!
So, what's in it for you? Checkout the DVD at your local Walmart and if you feel the DVD is for you too and you purchase one, you'll earn 250 SparkPoints AND be entered to win a $500 Walmart gift card for purchasing before January 31, 2014!
Want to read more about the DVD? Check out this Spark article:
www.sparkpeople.com/reso
urce/fitness_articles.asp?
id=1659
Here's another link to help you learn about the DVD:
www.sparkpeople.c
om/myspark/28daybootcamp.asp
Coach Nicole even has a team for Fans of her DVD:
www.sparkpeople.com/mysp
ark/groups_individual.asp?
gid=52341

Enjoy your exercise ... this is such a fun way to get it accomplished!!

"I received this DVD for free from SparkPeople and did not receive any form of payment for my review."