Friday, January 10, 2014
What got me here: I feel my weight is something that has gradually just gotten higher as the years came by, due to not managing stress and not taking care of myself. In grade school and high school I was maybe just 30 or 40 so pounds overweight.
It wasn't though until about between 2008 and 2009 though that my weight took on a significant change. In my early/middle 20's I went from 230 pounds all the way to almost 300, in the course of just two years. I believe this was because of a very difficult relationship I was in, one that was physically and emotionally abusive. I just quit taking care of me. The crazy thing is, I don't even recall noticing any of my weight gain until I finally ended up stepping on the scale towards the end of the year one day and was shocked at the number that I saw. I can't believe I literally did not notice until up to that point.
Finally though, I wish I would have gotten wiser a lot sooner, but I still believe things work out in their own perfect timing. I moved out, and moved back to my home town away from this person because I just felt so miserable around them. For awhile I kept in contact with them through the phone, but then I just quit because I could not take it anymore. I switched my phone number. One day they contacted me through face book, but I still felt it would not be right to contact them at all.
What I finally did realize is this: I did NOT deserve this. And that I will never again put up with any kind of physical or emotional abuse in a relationship. I don't need to always be with someone in order to feel happy or complete. I can stand on my own two feet, love myself, unconditionally, and be strong. It is a process, but I don't want to date anyone until I feel ready, and until I truly feel comfortable with who I am. I used to think, well, I would rather be with someone then feel alone, but I no longer feel that way, because I remember this quote: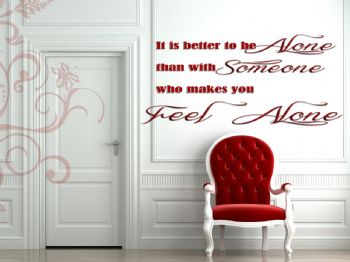 "It's better to be alone, than to be with someone who makes you feel alone!"