Friday, January 10, 2014
Good Morning All,
ITS FRIDAY!!! Good thing too, I am worn out from the week! I am in need of some good workout adive today! I have lost 53lbs since I started this crusade, and that is SUPER AWESOME...except, I am losing it everywhere by my big ole stomachs. I literally have 2 stomachs! My upper stomach stops at my waist, my waist is thinning nicely then my lower stomach. My family calls it the Sawyer Gut. My granddad Sawyer was an extremely large man from his waist to his thighs. He was definately pear shaped! Now that I have lost this weight everywhere else, I look pregnant & in my opinion, misproportioned & I HATE IT! Hubbs says all i need to do is crunches...I have been doing crunches and I can feel and see a slight difference in my upper stomach, but not my lower. In fact, either my lower is getting bigger, or my upper is getting smaller and it just makes my lower look bigger! IDK but I am tired of it!! So..What can I do? Any suggestions??
Second question?? My boobs are not getting any smaller either. I hate it! I have gone from a 46 to a 38 but I am still a back painful cup size H. Is there anything I can do to get those babies smaller & more firm without surgery??
Third & Final question?? I love fruit. When I get a sweet tooth, it is for fruit, not candy or cakes or what not. Fruit is super high in carbs. If I am primarily low carb, what is the best fruit to have? I realize that I can't go nuts, but is an apple or a clementine orange ok?? Everyday??
I hope everyone has a great day!
BTW...my daughters basketball team, the Lady Warriors, are now in the championship!! They have only lost 1 game this entire season & it was thier very first game. So Proud!!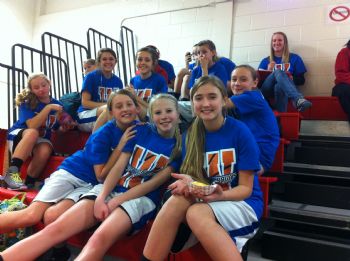 So proud of these girls!!
Thanks Ya'll