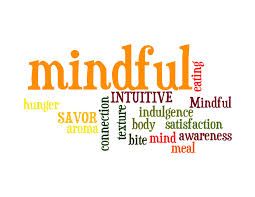 www.mindfuleating.org/Mi
ndfulEating.html
tells us that
Mindfulness is simply the moment-by-moment awareness of life. But it's not always so simple. We so easily get caught up in our own thoughts and self-talk that we are scarcely aware of life as it passes us by. This is very true of our eating. We eat meal after meal, snack after snack, barely aware of what we're eating and how much we're consuming.
Mindfulness is a return to paying attention to life. When we pay attention to our food---really pay attention---we begin to notice all sorts of wonderful aspects of the food, and we become aware of how much we're putting into our bodies.
www.webmd.com/diet/featu
res/mindfulness-helps-heal
thy-lifestyle
suggests that mindfulness could be the key to weight loss success and gives us six ways to help. Here's
#3 There's No Accounting for Taste
Ever notice how the first bite or two always seems to taste the best? That's because after that initial forkful your taste buds (of which you have thousands) stop firing.
"If you check in and and really notice how the pleasure level is changing, you may realize that you've had enough far sooner than you would if you were shoveling down your food," says Jean L. Kristeller, PhD, developer of the Mindfulness-Based Eating Awareness Training (MB-EAT) program.
www.ifnotdieting.com.au/
cpa/htm/htm_article_view.a
sp?id=357
tells us that
- our taste buds are chemical sensors that get tired quite quickly.
- Unless we are very hungry, the first few bites of a food will taste better than the next few bites; after a larger amount, we may actually have very little taste experience left.
- What we are experiencing at that point may be the memory traces of those first bites.
- ...people will keep on eating in order to get back the intense flavor from the first few bites, something that's impossible to do.
This is a revelation for me and actually when I think about it it's indeed very true. Often times I have noticed that something I've been enjoying eating does not taste as good after several bites and I have continued eating it though to try and get that "best" taste back - which unfortunately the above says is impossible. And that's when I probably should stop eating it!!!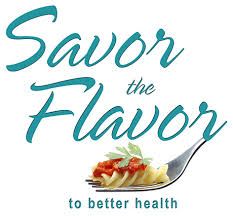 Affirmation: I eat food slowly and use all of my senses to truly taste, smell, and fully experience eating mindfully and in so doing; I easily and naturally lose weight and am more open to all the joys of life.