I am happy to report I am still here and have
logged two day in a row of exercise!
Feeling?

I set goals and finish them all the time
so this time I have these here goals for too long 7 years
almost the same goals right?
WELL
I AM BACK ON TRACK AND WILL BE LOGGING
THE FOOD AND EXERCISE AND GET THE GOALS MET!
My stress level is .05 of a 0 to 10 scale. Feeling content after exercising and ice cream for lunch. I am also fully medicated hahaha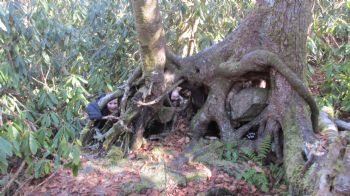 A tree I had each family member 5 of them can you see 5 faces looking back at you?
From our trip to N.C. for Christmas.
Spark People loss total pounds- 35 as of 1/9/14
Goal to lose 92 pounds.
Remaining to lose: 61/56/55/55/54/57/56/52/54/56/
53/54/52/52/50/50/55/57/57 pounds to go.
Goals :
Weight:
273 = 40 pounds down again !
263 = 50 pounds gone ! ___
262 (low in years! ___ new bike to ride on trail.
250 ___
249___
240 ___
230 ___
221 Ultimate maintain goal! ___
Life is Great and GOD is Greater for Strength , my family
,children and Amazing wife and my spark friends.
The ability to get up period !! !!

To exercise with little to no pain most days! Working on that !
eating Healthy today? I have so far!

Sit in the sun or outdoors 15 minutes minimum? Yes

Stretch your body? Yes

Yesterday? yes

Today ? Yes

Workout, walk or hike Yesterday? Yes

Cardio (10 minutes minimum) ? No

4) blog for motivation? Yes

5) read other blogs and posts for extra motivation ? Yes

6) weight loss-not required but nice to see- +/- 0 pound
last few weigh ins: 278, 282,277,276,275,278,277,273,27
5,
277,274, 275.273.271,276,278
Today 278
next weigh in 1/16/2014
last weekly loss/gain checked 12/30/13 +/- +0 - 0 pound
monthly loss/gain 11/17/13 to 1/9/14 +/- +3 pound
Did I get 7 hours of sleep last night? 7


for reading my blog !