Yesterday I was scheduled for a 5 mile run, but I decided to do a long bike ride instead - 31 miles. I'm trying to balance marathon and triathlon training. The bike ride would allow less stress on the joints, and it would still be a tough work out.
The weather was great - around 50 degrees and overcast when I started. Being in Florida it got a bit warmer towards the end, but not by much. I think it was about 65 by then. I'm certain the cool weather made my energy level stay high.
I mapped out a good trip, trying to stay on riding trails a good portion of the time, and I did okay on that. Of course, I still had to ride in traffic a lot, but I felt more confident this long ride. I guess one just has to kind of trust the car drivers to pay attention as you ride in a portion of the traffic lane. Also, I use that time to ride faster and push myself along with the cars.
This time, again, I got passed by another rider. This time a young guy on a mountain bike pretty much flew by me on the riding path. I didn't attempt to keep up with him, but maintained my own pace.
By the way, I did get another bike for myself. I still have the Walmart special which I also train with. I got a Windsor Bristol from Bikes Direct online.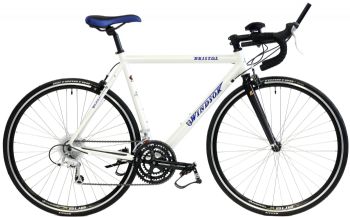 It's certainly not a high-end bike, but still expensive for my budget and mindset about spending money. It's lighter, has thinner tires and has triathlon bars and pedal cages. Just a better bike for triathlons. I can't justify paying a lot of money on a tri-bike, especially at my training level and age. I just am not that fast that I need to gain a few seconds per mile at the cost these nicer bikes go for.
I've read lots of advice on purchasing tri bikes which agrees with me, that many people get into the triathlon scene and have to have the best bike and equipment, when their level of fitness does not require such sophisticated equipment, and they fail to gain any significant advantage from what they have paid for. But, having said that, if you have the money and want the best, why not get the best? I do understand, and yes, I do admire your bike when I see it. So, good for you.
For now, my Windsor Bristol did a good job for me. I did get a flat tire, though. I have gotten a few before, too. Probably going to have to get some better tires. These tires are prone to puncture easily. Anyway, the flat was in the rear. I had my new tube and equipment with me to make the change easily. It gave me a chance to rest up a bit, too. I still have trouble with the little hand pump I have. I'm not quite sure how to use it, as sometimes the air doesn't go into the tire. I have to adjust the presta valve on the tube a couple of times to get it to seat correctly. But eventually I got air into the tire, and was able to mount the wheel correctly on the chain, which proved to be easier than I had anticipated.
That was about halfway through my ride. I had some hills and some flat roads. Didn't really ever feel tired, which was encouraging. I am very intimidated by the 56 mile distance I must complete in my upcoming 70.3 mile triathlon. This ride immediately will follow a 1.2 mile swim, then ride the 56 miles, then run a half marathon distance. I am trying to be realistic about my expectations. I do sometimes think I signed up too soon. I have only done 2 sprint triathlons so far, and am new to this, but it's a done deal now, so I'm going to do it.
I understand I will be a back of the packer for this competition. Even when compared to marathons, there are fewer guys and gals in my AG for this type race. I know it's going to be very difficult, even fewer folks my age ever attempt it. So I've decided to 'just finish'. That will be accomplishment enough for me. As usual with me, I do have my moments of feeling not up to the task, but I always give myself a talk and tell myself this is not beyond me as long as I continue to train hard and smart. I remind myself that barring a genuine injury I certainly am capable of 'finishing'. So I train on.
The bike ride went well compared to my last long ride. I felt better afterward and still had some energy. Later in the evening, I got inner thigh cramps. I did some stretching and took ibuprofen and they went away. I'm really glad I decided to do this bike ride instead of the run. I got plenty of exercise, and feel great this morning.
I have a 10 mile run on schedule, so I have to go do that now.
Thanks for reading and have a great day!