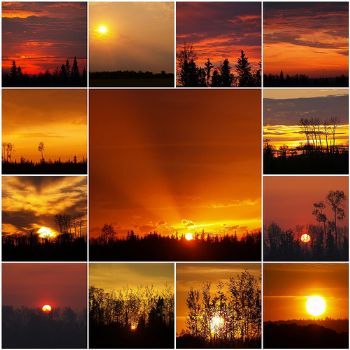 Take a few minutes to watch the morning sunrise or the evening sunset. Such an amazing thing to do. It only takes a little bit of your time. It is like taking in a breath of fresh air. With spring upon us the sunrise / sunset will begin to take shape once more, last a little longer and be enjoyed by many.
Ode to the Sun©
By Donna G Fowler
Feb 1, 2012
The morning sun begins to rise
In eastern sky he shows
Rebounding light from night to day,
To set our world aglow.
each star at night took their place
to sing in heaven's choir
sun in background soon will show
its blazing ball of fire.
as January makes its way
into our heart's in time
there's nothing like a sunrise
to place our day in rhyme.

"We can only appreciate the miracle of a sunrise if we have waited in the darkness"

"He who binds to himself a joy Does the winged life destroy; But he who kisses the joy as it flies Lives in eternity's sunrise" ~ William Blake

"There's beauty in the silver singing river, There's beauty in the sunrise in the sky, But none of these and nothing else can match the beauty, That I remember in my true love's eyes" ~ Bob Dylan

"Give me odorous at sunrise a garden of beautiful flowers where I can walk undisturbed." ~ Walt Whitman
Have a glorious

day ~ Donna
Just for kicks: