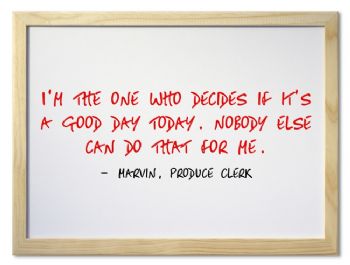 I woke up this morning to find the scale back down to 169.5 and I vow that I have seen 170Ville for the last time!
It's been a good week so far. Yesterday was quite unique. It was like I was being tested on whether or not I could stay positive in the face of 'little things going wrong'. It started in the morning when I almost missed my bus (had to run to make sure I caught it on time).
Then once at work - I made a phone call to see about the application I sent out last week only to find out that they had a new procedure and I had to bring it in directly to my bank. Given my time constraints, I ended up having to leave work (thankfully my workplace can allow for this - as I ended up doing work from home after).
I got to the bank to deliver my forms and the manager told me it takes 10 business days to process - but I only have until Jan 18th to come up with funds and I pleaded, asking if there was anything he could do and he said "I'm sorry but that's the process and it's RSP season so it's real busy." I was quite upset but I said, ok, turned and walked away with tears in my eyes. I cried as I drove home, wondering how I had to handle this turn of events. I prayed to my angels to come help me... and as I walked in the door, I looked down on my phone and the computer and it was 11:11 (I told you I'm a number person and that the angels come to me in signs). Just after 12 I got a call from the bank manager who stated he had made a call to the head office and explained my situation to see if they could expedite the application. He then called me a bit later to say I had to go in and sign forms (and this call - looked at the clock and it was 3:33) - and that I should get the funds by Tuesday (he was going to follow-up on Monday as his colleague promised to put it on top of the pile and get to it first). I thanked him and told him how I was truly appreciative of how they were going out of their way.
Still no support payments though and no return calls despite my leaving 2 voice mails. Thankfully my sister was able to help me out a bit to get me to pay day.
Then I went to get my bank card to go pick up a few things and I couldn't find it. Thankfully I was at home and was able to go to the bank to get a new card.
I particiapated on a webinar yesterday about how to become a procedures pro as I strive to complete an amazing admin binder which I will title something like "Helene's Won The Lottery - Admin Procedures".
I also participated in a call to find out more about a potential income generator - although I'm hesitant because it's always scary to try new ventures - I will explore it. I do like what they stand for as it's in line with all my beliefs, so we'll see where that goes. I know I never EVER want to be in this financial position again and so I need to find ways to supplement my own income and not have to rely on any outside support. Again I had a sign with respect to this... in this article that came to me yesterday:
www.mindbodygreen.com/0-
12190/how-to-make-money-do
ing-what-you-love.html
Oh and I also listened to part of a series of intro videos to an upcoming Hay House event (if you're interested here's the link
www.hayhousenewyounow.co
m/
) - the particular video I started with was Jorge Cruise's and he speaks to women over 40 and the dreaded sugar, hormone stuff... I have the book on my list to order - the title is this if you're interested in checking it out: Happy Hormones, Slim Belly: Over 40? Lose 7 lbs. the First Week, and Then 2 lbs. Weekly—Guaranteed
The day was a whirlwind... and there were many times that I felt like letting it get to me - but I kept pushing through - recognizing that even though there were many glitches and things NOT going right, there were many things that DID go well. I bet there's even things I missed - because SO much happened yesterday.
I ended the night with a nice yoga session - perfect way to calm my mind and body.
I have been consistently getting my workouts in every morning and it feels so good!! I did my Totally Tubular Turbo this morning - love that workout (and Chalene Johnson).
Tonight I have my chapter meeting so I prepped a nice meal in the slow cooker for the girls. I will be driving into work so getting there early and making up a bit of time lost from yesterday.
It's going to be a great day!!
Stop waiting for life to be the way you want. Start doing all you can to make it great.
Read more at
greatday.com/motivate/in
dex.html#r9vyuLXF4ceySfAl.99