Wednesday, January 08, 2014
Another freezing (literally) day in Virginia so not much to do as far as getting outside. Weather reporters have stated not to do much outside if possible due to the cool temperatures. So, that's what we did... I'm greatly missing the daily pup walks and outdoor workouts. But it's okay because it will just be extra special when we get back to them. Not much to say since I spent most of the day working on getting Christmas boxes packed for a likely move instead of the normal placing in the containers for storage. It took up 1/2 a day then I took the other 1/2 day to do some work so I was completely exhausted by the end of the day when I hand made all of dinner and baking bagels for tomorrow's breakfast. A good days' work if you are tired at the end of the day I say.
Breakfast: 2 English muffins from Trader Joe's and 1 clementine.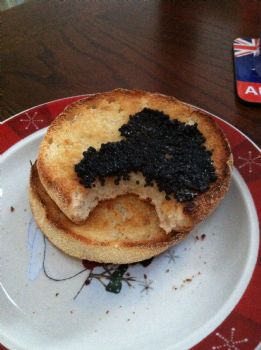 Snack: A few pieces of organic pineapple (not all of this photo though)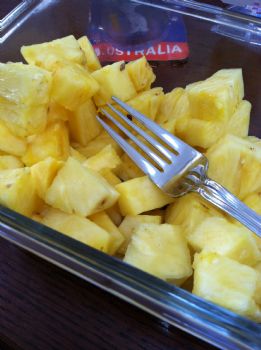 Lunch: Leftover Miso-Ginger Wild Rice with Carrots and Cabbage & seasoned cabbage with Chef Salt.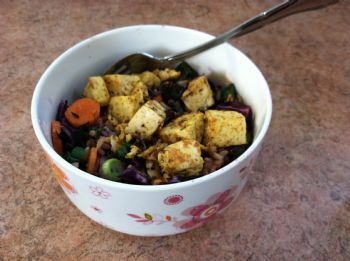 Snack: Popcorn - homemade (1st batch I burnt and gave to racoons but apparently they are picky and didn't eat it last night... oops!)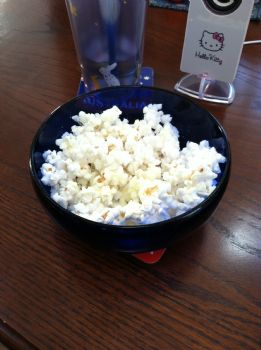 Dinner: Homemade Winter Squash Pot Pie with Swiss Chard and Chickpeas with a homemade vegan crust for DH (I ate a few bites but don't like pot pie really). I ate gently sauteed veggies with 2 vegan hot dogs mixed in with hot sauce on top.
Sorry I almost forgot to take photos but where is 1/2 way through for both photos...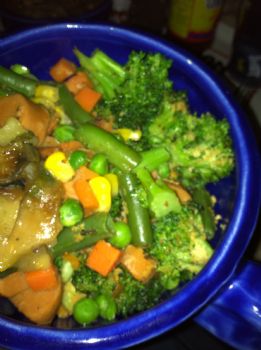 Snack: None
Exercise: None...