Wednesday, January 08, 2014
Mental Toughness is holding strong so far. I knew I had a meeting after work tonight. I planned for potentially having richer food than expected and ate fewer calories during the day. When the meeting arrived, I was able to enjoy a roast beef wrap and some chips. I'm well within my calorie range for the day. I was very happy with that.
I'm pushing myself with the mental toughness in other areas, too. Just for practice. Like when I parked far away from the office and walked about 1/4 mile in 9 degree (not counting the windchill) weather. It might help me when I'm not feeling so tough.
SPERRIN2012 is a co-worker and he hosted a wine tasting for our board members after tonight's board meeting. Since I'm off the sauce for the 90 day challenge, I'm staying away. I thought I could sit in on it and be OK, but I realized once it started that I wasn't up to hearing from others who wouldn't understand what I am doing or why I was staying away from wine. So I'm sitting in my office listening to it. It sounds very interesting.
But since I'm sitting in my office, I thought I could show you the picture frame that I put together for keeping me motivated to be tri-fit. It's the photos from the 2012 sprint triathlon with the 4th picture of me crossing the finish line at the Rutgers 8k race from that same year.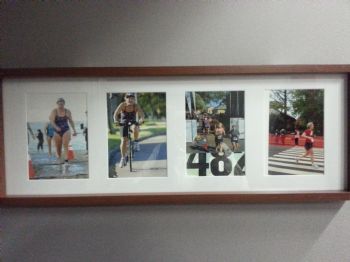 All this focus on being tough is having a positive effect. I find myself talking myself through obstacles by reminding myself that I want to be tri-fit or by reminding myself that I need to be mentally stronger if I am going to get through challenging endurance competitions. It feels good.
No workout tonight. I won't get home 9:30 or 10:00. I think I'm going to have to skip working out tomorrow night, too. I decided that I definitely want to visit my swingin' sisters and I have 10 days worth of laundry piling up. I have to get wash done tomorrow night so I can pack and leave straight from work on Friday. I think I can manage a Saturday work out at the club that my sister belongs to.
Not very entertaining today, Sparkers. The Muse is somewhere else.
Here's to eating what's in the bag and planning around life's obstacles.