Wednesday, January 08, 2014
I didn't quite manage my entire to-do list yesterday, but it was still a very productive day! I decided to do an overhaul on my wardrobe. Considering I had 4 loads of clean laundry to put away, and still had quite a bit in my dresser and closet, I kind of figured it was time to weed things out a bit! The problem with living in Maine, with such varied seasons, is that I need multiple wardrobes for different times of the year! Plus I have all those clothes that I WILL fit back into, so I don't want to get rid of those... I did manage to pull a good sized box of things out to donate after much internal debate though. I also got to chat with my fiance off and on throughout part of the day, which made me very happy!
On the health goals front; I am back to where I was before my Christmas weight gain, so I'm very happy about that! Now I need to finally get below that mark! I'm 0.2 pounds away from 10 pounds lost and 1.2 pounds away from what is considered a healthy BMI, my goal is to hit that point by next week's weigh in, so I NEED to behave myself this weekend, especially with a family birthday party to go to... My family is a little crazy about excessive amounts of food at any family gathering!
And just because she's adorable and makes me smile, here's a picture of my granddaughter: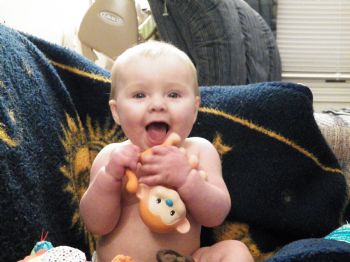 This right here is the biggest reason why I don't get more done on the weekends: Who can concentrate on housework when they could be playing with her? :-)