After I had achieved my goal weight, set my safe + - 5 pound window, and settled into serious maintaining, I started to wonder why everyone was having eating issues. What is the problem here? It's easy! You eat good clean veggies and fruits, eliminate as many processed foods as possible, choose good protein, and get on with your life! Why is everyone having a hard time? And what's this food addiction and mental eating all about? Come on! Get with the program.




As I've mentioned, my Mom passed away on Nov 7. The holidays would be a bit different this year, the first without my Mom or my Dad. Thanksgiving was quiet this year and gave me time to heal and reflect. Christmas was another story. I thought a lot about how my Mom made Christmas special for us. As she was Dutch/English, we definitely had a European flavor to our holidays. The house would always have a beautiful scent of baking and cooking.

I was food shopping for the holidays in Dec and saw my fave drink of the season, Egg Nog! I always get the low fat type and usually buy a quart, put it in the fridge and hit maybe an ounce a day through the holidays. I owned portion control. For some reason, I forgot the quart size and picked up a half gallon! Then as I walked through the store, I saw the familiar powdered sugar laden Pfeffernusse boxes out for the holidays! This cookie is a staple in a Dutch Christmas and they were always in our house for the holidays! I thought about Mom and picked up a box.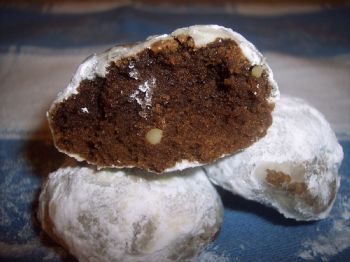 I'm the master of portion control, right? I came home and, soon after, did a shot of Egg Nog, opened that box of memories up, popped one in my mouth, then thought about my Mom and how things used to be. A few hours went by, I walked through the kitchen, and repeated the scene. Later that night, my snack include the same! And so it went. Since I shop fresh almost every day, I found I had run out of my "holiday memories with Mom," and replenished my "cookies & milk!"
In the month of December, I had gone threw 3 boxes of Pfeffernusse and 1 1/2 gallons of Egg Nog! The damage had been done! My scale started to creep up in number, resting comfortably and dangerously near the high end of my weight window! I told D about it and she flat out said it, "Emotional Eating!" Once again, my Girl was there! It hit me in the face like that first cold plunge before a Triathlon swim leg! I was doing it big time! I* probably knew it all along but buried it! I realized the connection with my Mom! " I finally get it!"

This morning, I went on the scale and I am feeling good in many ways. I do control my body. I am vulnerable. I can fall! I need to stay focused. The most important things about this all is that I am so aware of the dangers of emotional eating now, and am sensitive to others who share these times on SparkPeople! Lessons learned!

I share this openly! I've received praise and love for accomplishing great goals in the last few years. I've motivated and inspired so many! I'm thankful and blessed. But I want everyone to know we all face the same challenges! I'm accountable! I put my name on it! And, on SparkPeople, we go through this journey together. becoming more educated and aware on a daily basis. We need to stay "plugged in!"
Thanks for taking the time so I can share this with you all. Know we are on this journey together!
Much love, Monty