Hey Sparkies, thank you for all the comments on my latest blog!! We all like a little recognition now and again !! Most will probably never admit that, but I believe it is true. It's like you hold the door open for someone and they say "thank you". It's funny, but it is in ways a common decency thing to do "to hold a door open when someone is coming behind you". That's cool, but then automatically the person says thank you!! Which also is normal. But I am a person who will hold the door open for twenty people coming through it and wait till they all have gone through. But likewise I appreciate a "thank you", and I know I do say "that's okay". A manners kind of thing. But I find it annoying and even rude when they just walk through and no acknowledgement at all. Am I funny to feel that way do you think?? Or are we just pretty odd creatures being human beings?? Hey, don't misinterpret what I am saying-hehe. I am not saying "hey I've written a blog-everyone must read it and say something about it". That's not what I mean. But I reacon we are creatures that like acknowledgement,not sparkies-humans. Just kidding, but I think being social creatures we like to be "liked". Two things to explain here, first by creatures please don't take it offensively . We are many things , and I aren't going to get into a hundred and one catorgories about what we could possibly fit into. Okay "jokes" just for a minute; we are humans,people,sparkies etc etc. About we all like to be "liked", I am referring to a facebook kind of a like. I don't think many people would write a blog or have a page or "something" and not like to be followed or liked-hey I'm joking again but not stalked followed!!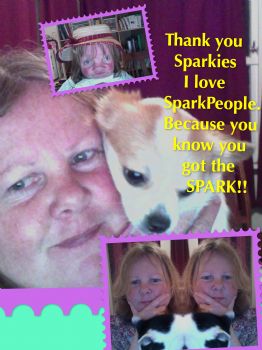 I used to have a yahoo 360 page way back-a few years now. I loved my page and I loved yahoo 360 as a social networking site. That was my first introduction to social networking and blogging. I love both and have never looked back.Well in a way I have because I really actually began to "come out of myself" with my page. I had a really good mate who encouraged me to write. And through that I started letting my inner world come a little bit out. I used to be so shy and self preserved in my inner turmoil of a world. I used to be terrified to give any glimpse of my real self to the world. And that wasn't just the cyber world. Through a very difficult childhood I learnt to block things out that I couldn't handle and I blocked a huge part of my childhood and even years after that out. To the world I would have just looked like a happy fat person, happy in my fat little contained world. That was not true, that was so far from the truth.I might not have been loud and to many I probably looked like I had lived little. But that was so far from the truth, it couldn't have been more wrong. I hid from so much, and hiding from my reality gave me some pretty rosey glasses. I always had a tendancy to have this thing for the underdog. I was their voice, I'd defend anybody if nobody was there to defend them. But I didn't defend myself, I walked around hiding my abusive,truamatic, sad childhood. That page I had really helped me open up. Many people would have thought how open I was. But I was just learning to open up and that is how and when I began doing that. I learnt that I can express myself better in written form. I used to often have a featured blog in that site. I spent a lot of time "coming out" on that site. I mean coming out , in the way I started to speak.I wrote poems and some were really good. I wrote alsorts, I began to leave my shell. Spark people is the closest any site has come to being like yahoo 360 for me. They really are very different, but spark people has that homely feeling like my 360 did for me. Yahoo 360 closed their doors and shut shop some years ago now. I started page after page joined site after site to find that feeling again. I did enjoy making blog sites and especially I used to love the chance to add graphics. I love using colour and font, and pictures. I need lots of colour in my life, I love colours.
I made a page of my journey which I am just starting on facebook. Which I think I will enjoy. I've had a normal facebook page for a few years now. Facebook is different again, everyone looks for and wants different things in facebook. It can be superficial, facebook is funny. I mean it is now a household word, it's weird. Cyberland is weird, it is so amazing what we can do at the touch of a button. At our fingertips we can do things that are just so hard to believe we can do. Back to facebook, when they thought that one up the world of cyberspace and technology took a different turn. I mean was it facebook that got us adults playing games?? I think they may have!! Now on our phones, a variety of gadgets we are playing games. Who would have thought, honestly who would have thought that would happen?? In my house my son,my daughter and I when we watch a tv programme together we each have a gadget there with us. We are watching a programme and tinkering away on our iphone,ipad,or laptop. Not always games I admit, but I won't say I never play games on my gadgets. Anyway Sparkies being me, it's very normal to go off track of where I start a subject so don't be alarmed. I start a blog here, and mymind goes here there and everywhere. That is something that I found happening when I started opening up and confronting my past. I begun remembering things I'd hidden way be when I was so young. I also found my brain started to unwind some of the "cobwebs " that clouded my mind for all of them years. My brain started to work in a different way. Now I find I can write and my mind wanders off to here, there and I think, think and think. The more I think the more my mind goes into another journey. What I was about to say a minute ago, I must find some pictures to add.I did a couple in my new facebook journey page. Hey and one thing I have found over so many years of being online I have learnt (well I still forget sometimes) to save my writting before I add a pic or something because after writing a huge blog or email and losing it, that is not fun. But I have done it so many times....