Shred Diet Week 1 Day 7 - LCW
Tuesday, January 07, 2014
Everything going well, except I'm HUNGRY today! I need to drink more water but I'm wondering if something else isn't going on. I ended up splurging on 60 calorie hot cocoa before hitting the gym.
At the gym, I completed a 60 minute workout. Looking forward to tomorrow's weigh in. I did 15 on the stationary bike, 10 on the elliptical, and 35 on the treadmill.
Here's what I had for meal 4 today. 1 cup spaghetti squash, diced tomatoes, and Italian seasoning. 12 shrimp (because I thought I'd thawed salmon but discovered shrimp instead, but yum!)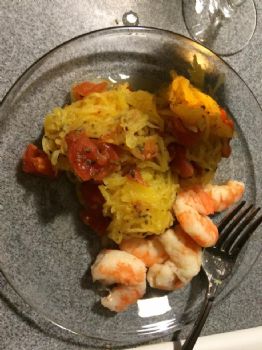 UPDATE: Checked my tracker and for the 2nd time in the past week, I haven't been eating enough. I need to get this under control. No wonder I was hungry.