Monday, January 06, 2014
Everything going well, except I'm HUNGRY today! Calories are going to end around 1400 and carbs/fat/protein are within range, so not sure what is going on. Going to make sure I drink some more water.
I found some great Shred groups on FB but they are focused more on SuperShred right now. Someone mentioned they wanted a smaller group that was focused on Shred so I started one and set them as admin (they didn't know how to set up a group). I'm excited about what that might be like. We're all getting to know each other (online).
Here's what I had for meal 3 today. (not sure the rice is completely legit but it is brown rice and the portion is correct - just maybe more sodium/fat then he wanted me to have - teriyaki) .. Broccoli has 1 tsp flaxseed oil and black pepper ... Roasted chicken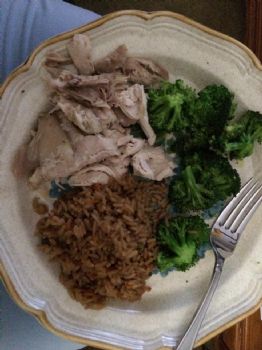 UPDATE: Just noticed that I was 10 minutes shy on the exercise requirement (did 30 instead of 40) and it's almost bedtime so I will have to make my 40 minute workout tomorrow be 50 minutes long to equal it out