hi we are day 6 into the new year and up to now have not a single green dot on the calendar

i have also added a new blue dot on the calendar for when i have a day without diet cola.that is going much better

i have had no diet coke this year and just drank

water and the next emotion is suppose to repersent a green smoothie,lol.

for those who are more visual like me here is the photo of my dot calendar but i am hoping by tonight it will have a green dot.my worst problem at the moment is night time eating after the kids are in bed and i have spoken to lotfi on skype.i miss him and i am also worried about my coming up op and the hospital appointmenttomorrow when i should know which op they are doing and when.i am worried going off the bloodthinners and getting another lung embolie which always scares the hell out of me as it is what my father died of.haveing already servived 8 lung embolies i know my luck can always run outt.i know i shouldn´t worry about things that might not happen but it is sometimes easier said than done.anyway enough of that here is the photo of the dot calendar.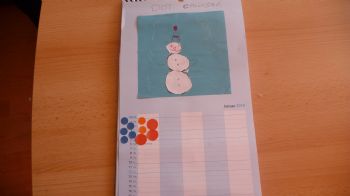 re exercise as always i do good on that.not to the same intensive level it used to be before my knee started playing up up still doing it despite the pain.as always my cardio is good but i am not so top on the strength but plan to change that.have brought my self a power stick.for those of you who have never heard of iot here is a photo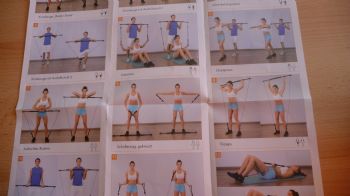 i would love to have a real barbell but with kids and also little space that is not such a good idea or even an option so when i saw this i thought it was the next best thing.it came with this poster,a dvd and a carrybag.done one workout with it had a rest yesturday as recomended and will do it tonight again if i am not too long with the decoration of zakariya´s yu-gi-oh cake for school tomorrow so you see i have things to keep me buzy tonight so hopefully i will have no time to snack/pig etc.looking good for a green dot.

actually i must be doing something right as earlier today as i was buzy with all hands to do ayman came up to me and said he was hungry.i asked zakariya to make him a snack without saying what to make.well here is a photo of the snack zakariya made.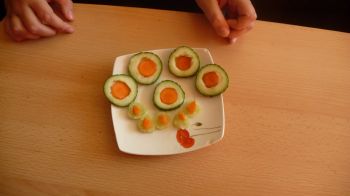 he cut up cuecumber cut out the middle and filled them up with sliced carrots then the cut out middle used like a crcker with a piece of carrot on top.i often give my kids bits of fruit or veg as snacks and i always try to make them as attractive as i can as i am a firm brliever of eating with the eyes.when i saw what zakariya had made it filled me up with pride not only did he give his brother a healthy snack he also took the time to make it as fun and attractive as he could.so like i said i may not be going so good on my food this year but i am definately doing something right re my kids and thier outlook on snacks etc.

anyway thanks once again for taking the time to read my blogs and an extra thank you if you take the time to comment.love you all.take care and keep smiling.