Here is the link to the prettier version of my blog on blogspot:
365daysofmeese.blogspot.
com/
From the Beck Diet Solution:
Two reasons eating this way is beneficial
1) your brain has time to register that you are full
2) you feel more satisfied when the food is gone, because you've taken the time to appreciate each bite
Research shows that:
1) there's a 20-minute lag between when your stomach fills up and you get the message that you are full
2) people who eat slowly eat less
So how do you slow down?
* Put down your utensils between bites
* Wait 10-30 seconds before picking utensils up again
* Buy a special plate to eat off of as a signal that you're supposed to be slowing down
* Set a time (no, thanks)
* Take sips of water between bites
* Pay attention to your hunger signals
* Look at a clock and set a time that you want to spend eating
* Reduce distractions when eating
* Take the time!
I think the hardest one on this list for me would be to "take the time". I'm always rushing out of the door in the morning, I definitely don't want to get up earlier just to sit down for breakfast and I just have too much to do in the morning because I'm too tired to do it at night.
What I can do to change this:
1) Eat in the car - hey, that's sitting down, right? I've got a 45-50 minute drive. I could "time" my eating so that I have to make it take 20 miles to finish my breakfast, right? I have nothing better to do but drive and chew slowly!
2) Use my days off to do those things that I don't do nightly and end up doing in the morning to improve efficiency: when I'm done with laundry, fold it! Set out enough pairs of socks/underwear for the work week so I don't have to go looking through the laundry basket at the crack of dawn, put aside a few scrub tops ready for work in advance so they are ready to go each day, figure out a daily dinner menu for the days that I'll be working so I don't have to think about what to make at 8 pm when I get home or what I'm going to buy for lunch, defrost things in advance so that I'm motivated to cook them instead of going through the drive-thru
Ok, that's enough of you, Beck Diet Solution!
What I did right today:
1) I let myself sleep in and then immediately got up and started running errands, doing laundry, instead of waiting until the afternoon to start
2) I was super hungry at lunch, and first considered making some toast with avocado and olives and yogurt, but then checked the calories on SparkPeople...then thought to make my little bean burritos but didn't like the look of the calories when I logged those...so I ended up opting for an omelette with salad, avocado and whole-grain crackers...but then I decided to pare it down to a simple 2-egg omelette with cilantro, Fage 0% Greek yogurt, a sprinkle of Za'atar, 5 olives and a mixed green salad with no dressing, because I made the omelette in olive oil and the olives provide some fat. I decided against the crackers and avocado because I didn't want to use so many of my calories this early knowing very well that I'll want to eat later whether or not I eat a big lunch...
3) I sparked and kept up on my blog - day 5!
4) Made another pot of my chicken soup - no added fat, only chicken and veggies.
Here is lunch: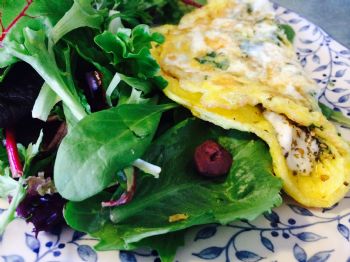 Omelette:
2 eggs beat in a bowl with salt and pepper and a handful of chopped cilantro
1 tsp olive oil for cooking the omelette
1 tablespoon Fage 0% Greek Yogurt and then sprinkled with Za'atar - fold omelette over
1.5 cups Organic Earthbound mixed greens with 5 black kalamata - no dressing on the salad. I decided that between the olives, the olive oil in the omelette and the yogurt, that would be good enough and I was right.
Another pot of chicken soup cooking!
Low-calorie goodness and an easy meal to warm up after a long day at work!