Lunch ... fresh from the garden
Sunday, January 05, 2014
Today, I picked my lunch fresh from the garden. The one on my dining room table!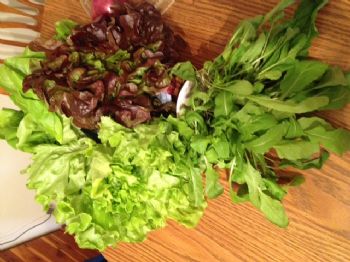 Isn't it gorgeous?!
I've been eating "living lettuce" all summer, but didn't realize until I'd lost far too many heads that I can extend the life of my lettuce that I buy each week from the CSA farmer by putting it in a bit of water and letting it sit on the table! The lettuce can last this way up to 4 weeks!
This week, he provided me with red oak, green oak, bibb, and romaine along with some lovely spinach. So today's salad looked like this ...
Romaine and spinach topped with hemp hearts, walnuts, blueberries, some raspberry white balsamic vinegar and just a splash of olive oil. YUMMM!
Happy, healthy eating!