Winter Top Down Driving!!!
Sunday, January 05, 2014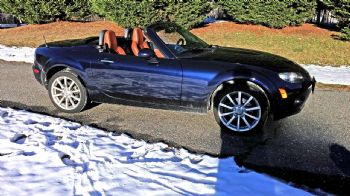 Good Morning everyone. I have a lot of catch up work to do today for "The Man". I'm an instructional designer and create online courseware. I have a new course launching next week and promised to have it ready for initial reviews tomorrow. Damn procrastination! So,looks like no fun for Don today :-(
Anyhow, its been really cold, snowy and nasty the past few days, but yesterday as the snows were beginning to melt, there were some beautiful blue skies, it was so sunny and nice out I couldn't help but drop the top on my little Miata convertible and cruise around with the top down. (even thought it was 20ish degrees) I had a warm hat and gloves, bundled up tight, the heat on full blast and the seat warmers on!!! Driving by snow filled fields and parking lots!, passing people and waving! Before returning home I pulled into the grocery store parking lot to pick up some fresh veggies and some stuff for supper, people were looking at me like I was crazy!! :-) LOL -
Later today I am planning to go down to the basement and brush the dust off of my bike trainer and set it up with one of my bikes. I'm going to try to get a few miles in this week before my hernia surgery on Thursday. Good news is that I talked with a friend of mine that works in the medical field and he talks with lots of doctors that perform hernia suergeries. He said that nowadays the recovery on these types of surgery are just a few days. Most people are back to performing normal activities in just a week or two at the most!! Yeah!!
Later I'm planning on writing up a short post on "What Motivates Me to Keep Going"
Chat later - Don