Sunday, January 05, 2014
Happy New Year, SparkWorld!
Iíve had a second car accident in a year. My car choked to death on the guardrails I fed it when I was trying to brake for those kind people that neglect their signals lights, on an ice covered road. God Bless, Dipsticks.
(Whomever loves winter driving, raise your hand Ė and smack yourself silly.)
This time we can not recover financially from the accident. It was my second car that I attempted to slaughter in a year.. However, this time I was successful. My in-luvís gave me that car so that I could travel to my housekeeping job at the resort. So, our options were for me to work to own a replacement vehicle OR come out of retirement and return to being a Housewife... in the middle of Godís country. This time thereís no homeschooling. The eldest two are enjoying highschool when the eldest isnít trying to die from his second lung collapse in a year. The younger two boys and daughter are tolerating school. I think thatíll change when they have a mommy home that is not exhausted from walking 15 Ė 20 kilometers a day.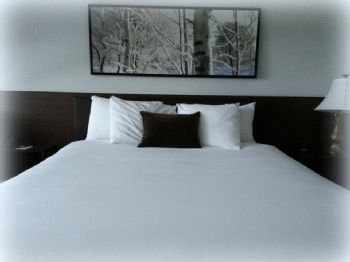 Iím so happy that I had that car accident. I walked away from it and it woke me up. I loved that job and my employers loved me. Every day I was off-shift my co-workers would say how dull things were without me to Ďcheerleadí them through their day. I loved the work I did. I spent a decade plus at home teaching or birthing and to be at a place where I could clean uninterrupted was so very beautiful. I ended up becoming a matriarch figure to many of the young ladies I worked with even though I was trying to find a separate identity. I missed being there for my own children. This past year has been a run of chaos Ė a blur - in health, home, relationships and overall existence. That job was not meant for a mom of young ones. I was expected to run like a racehorse and was rewarded like the stable hand. I skipped my Grandfatherís Funeral last week when I was too exhausted to accept his passing.
Tomorrow I give my notice.
I am no longer working just to work outside of the home. I am looking forward to savouring my life. I blinked and everything went by. Itís as though that accident popped a bubble Iíd trapped myself in and I just came up for air. I was not ready to do that lifestyle change overnight like I did. It was not the right time or job for us. I went from a maximum of 20km a week to 17kn a day. I gained weight in an athletic lifestyle because I left myself so depleted that I didnít have any energy to face myself in the healthy direction. It was like a highschooler in the NFL . Again, I took too big of a leap; in everything I need to learn moderation.
Iím back to Rinsing & Repeating...and...enjoying the things I love.